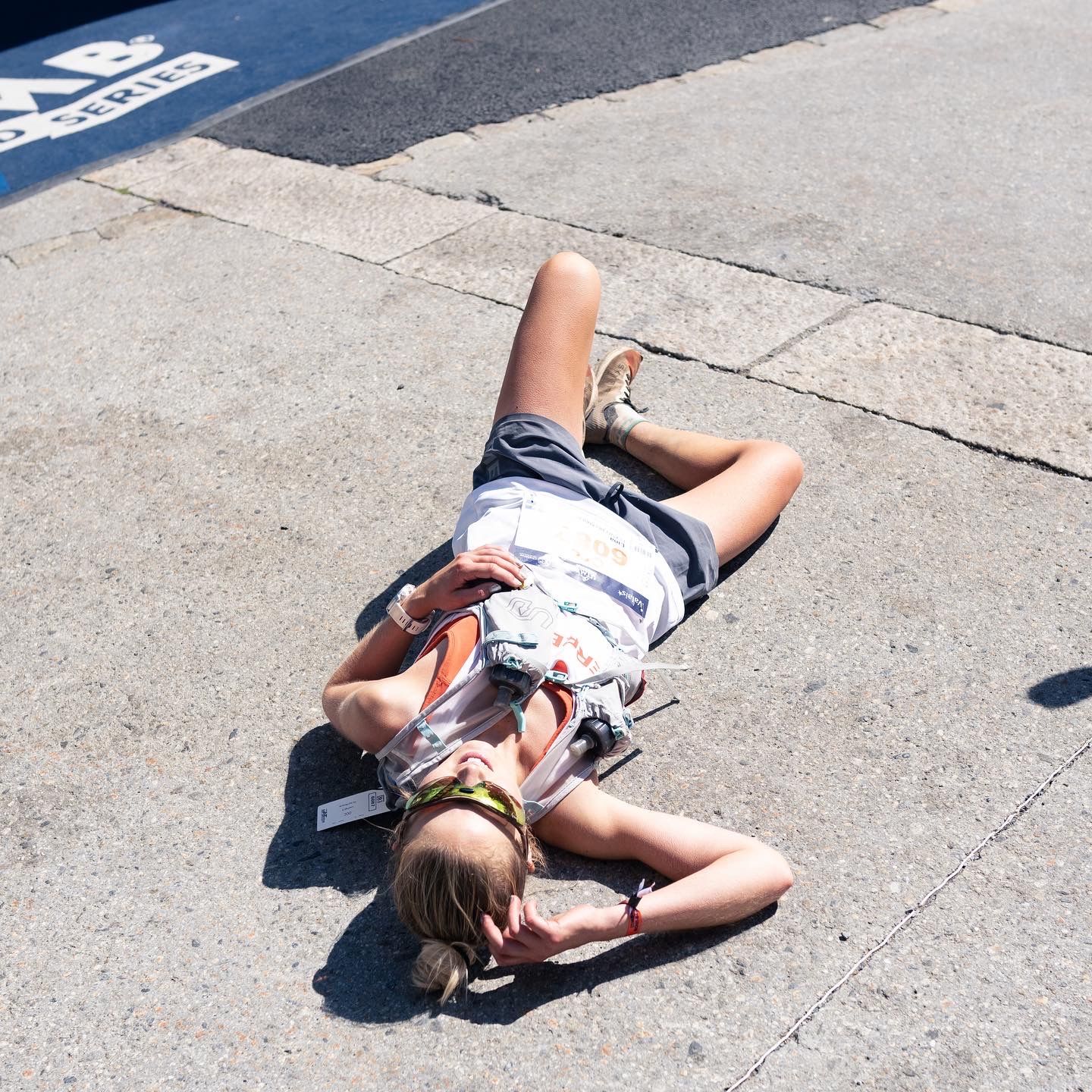 OCC Race Report by Lina
Last year Sanna and I were in Chamonix during the UTMB-week cheering on our friends. The atmosphere was fantastic and we knew that we had to run ourselves this year!
We have had some great days here with the Merrell team, running, cooking and hanging out. I like all things around races, it's so important for the mental part too.
There are extremely many people in the village and even though I usually don't fancy big crowds; this week is so special and I really like it. It's hard to walk through Chamonix without stopping every 50 meters to say Hi to someone you know!
Our race was on Thursday but both PTL, MCC, TDS and ETC had started the days before, and it was so inspiring to watch these runners. It made me excited to get out there!
The start was at 08:15 in Orsières, so we left Chamonix at 05:30 to be in time. Waiting in a toilet que for half an hour, then had an easy warm up the remaining 30 minutes. We were squeezed like sardines in the start area but it wasn't a too big rush when it finally went off, sometimes I fear being ran over when it feels like a herd of bulls are setting off!
I tried to stay calm but still have a good pace. Some women were really fast and I knew I couldn't keep up with them on these flat asphalt sections. When it started to go uphill it showed I couldn't keep up here either which annoyed me, since I usually is strong there… It was hot already too, but luckily, we were mostly in the forest here.
Coming up to Champex-lac and finally a flat part again (I really enjoyed these sections, which I thought would be my worst!). I had a good flow and was happy to be cheered on by the Merrell crew. It helps so much and I had a good time and hope to be able to keep my 7th position. This is just in the start of the race though, and I knew it was a long way to go so it was mostly positive thinking. Soon two girls passed me in the downhill. One was Elsey Davis from the UK whom I shared house with in Stranda during The Golden Trails some weeks before. We kind of stayed together for a while overtaking each other now and then on the trail that went up and down.
It's interesting that we all have our different strengths like fast and flat running, uphill or downhill, technical or non-technical trails. I couldn't figure out my own yesterday though…
After 22 kilometers I have had enough of running and wished the race to be over. I guess my body has getting used to that distance since almost all the races I have done this summer have been around there. That there were 33 kilometers left felt unreal since it already was hurting everywhere.
I wished I had a better feeling and could have some fun, but I was feeling horrible. I tried to keep on going anyway and told myself everyone else probably also was tired and suffered. On all aid stations and when we were passing water, I soaked myself to be refreshed, but I was dry almost directly. After Trient it was a long climb up to Col de Balme and we were running beside a stream further down the valley. It was mentally hard to hear and see the water but not have access to it. I just wanted to jump in there and laying there all day.
The further up we went the better I felt though, and we also got some wind, nice! It was beautiful here and I could also pass a lot of people which made me feel even better.
After Col de Balme I know there are some really nice and runnable trails down to le tour which I was looking forward to. I love to run there! But just when it started to go downhill, I got the awful cramp in my right side of the stomach which I've been struggling with for some years during races over 20 kilometers. It was hard to breathe and running fast was impossible. I was happy to see our camera crew though and there were many people cheering here so I decided to smile and know I'm fortunate to be able to be running here at all!
Down in Le Tour and Argentière it felt like a sauna but friends and a great atmosphere helped getting through that part.
Now it was "only" about 15 kilometers left. I tried to eat one more gel but just felt sick so sipping on water and keep on going was the only option. A long way in the forest where I was moving very slow, but also found it a bit nice to be walking to get some rest, since I was struggling more in the downhills with the stomach.
Reaching La Flegère I was super tired and heard Kimi Schribner coming closer behind. I knew she would catch up and some coach was running with her screaming things in German to make her push more. Luckily there was a lot of Swedish people in the forest down who cheered for me instead and also told me I was just 20 seconds behind another girl. I was thinking I don´t give a shit, I just want it to end now. But when I saw her my fighting spirit rose again and it felt easy to pass her on the road that now was going down to Chamonix. Only 3 kilometers left! Kimi and I now were side by side and she was a bit stronger. But when we reached the stairs that are going over the road, I finally found my uphill strength and was determined to be first there. I was, and got some more confidence. Though she passed me easily again on the road and I gave up. I DON'T CARE.
I thought the road along the river would be longer, but when I saw the end of it and the right turn towards the last little stretch through the village center I felt I could have some more power. I CAN'T give up this close to the finish! I DO CARE! And I remember when Sanna did a 1kilometer sprint finish in a relay race some years ago that was so impressive so I was thinking of her and suddenly could get some speed in my legs! I passed Kimi again and now I was focused to hold it all the way! Before I had imagined running though the crowds in Chamonix, smiling and enjoying the last part, now it was a real suffer feast! I didn't now how close behind Kimi was so I just ran with all I had left to cross the line in 10th position.
It was such a great feeling to just laying there FINALLY in the end.
Kimi also joined and I think we were both happy that it was over.
Sanna came just some minutes later and it was great to see her finish strong since she had had an even tougher day than me.
I'm glad I could take the 10th position, but I wished I could have enjoyed the race. Honestly, I didn't. I kept saying to myself that it was too long and I wasn't prepared for it. I think racing should be hard, but at the same time I want to have a good feeling in hard times. I couldn't find that. It feels good anyway that I pushed through it. I will definitely come back here, the UTMB-week is so amazing with everything around too.