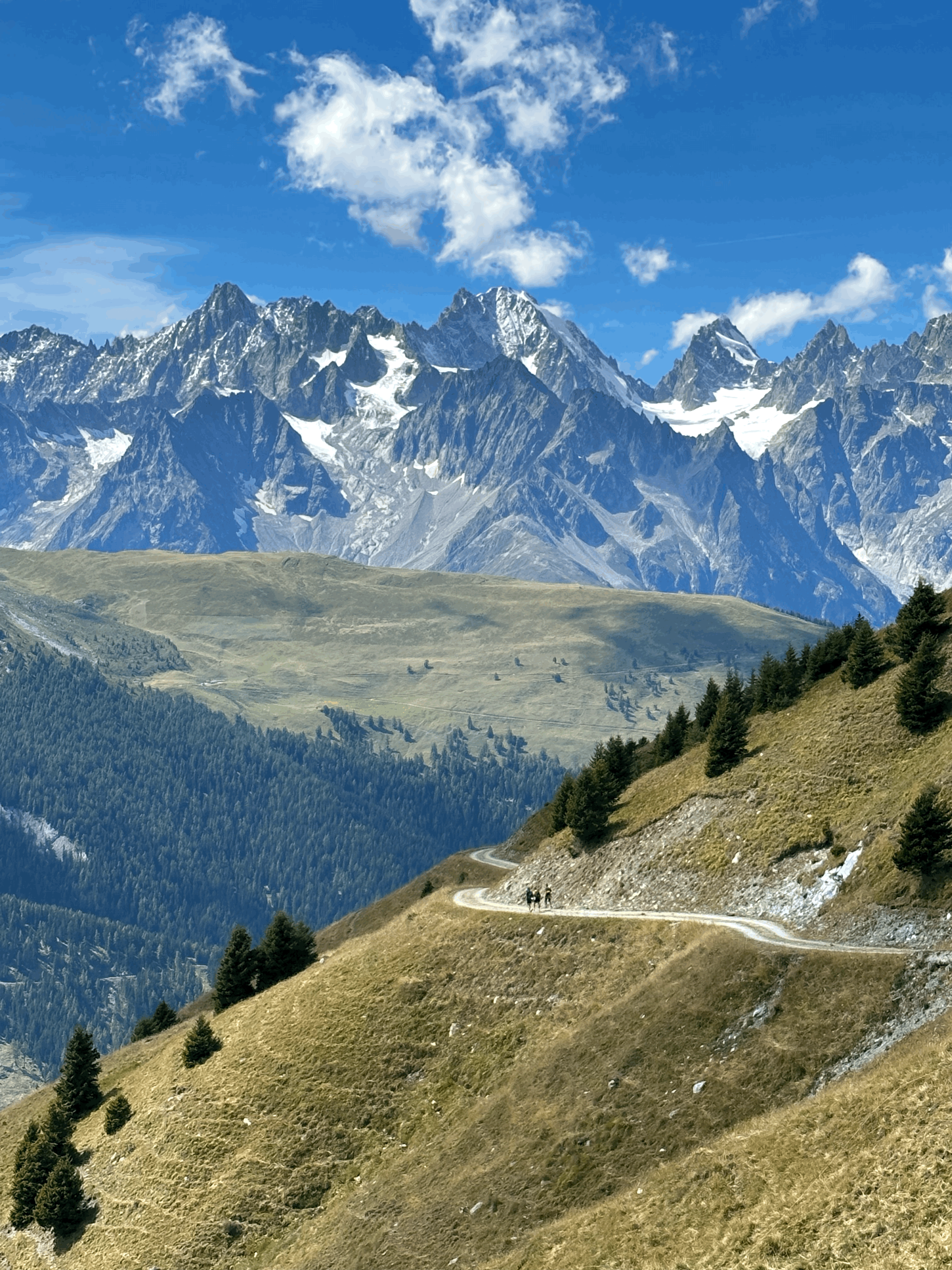 PTL RACE REPORT 2023
This is a little story of Lina and Sanna doing La Petite Trotte À Léon. Let's say, they had to rest quite some afterwards, and therefor had plenty of time. So the race report went out to be little book how they struggled up a col and down a col and continued on like that for 6 days and nights. It might feel petite, it might feel grande, up to you. Enjoy the reading!
Introduction
This is what it says about PTL on the UTMB website.
"With its unique concept and its specific features, the PTL sets apart from other races. The spirit of the PTL is based on mental commitment, team spirit and adventure, as well as on sporting and mountain values. This ultra endurance race takes participants on a grand tour of the Mont-Blanc (310km and 25000m of D+), covering high altitude trails
La Petite Trotte à Léon is a larger and more wild version of the UTMB, the PTL offers a demanding alpine challenge. The route is not marked, but participants are given GPS waypoints and a map. The event must be done in teams of 2-3 participants."
These are the few words that during some years have made us curious on this adventure. On a run last year we met three runners on their final day of PTL. It was a short but inspiring little chat and we admired what they had done and wanted to try it out too. PTL offers a different course every year which also makes it a unique trail running/hiking/adventure event.
We applied to hopefully get in. ( it is not just to enroll to PTL, you will have to show your previous experiences and mountain skills to get a chance for the start line).On our merit list we had some adventure races as Expedition China, Expedition Oregon and Raid del Viento then 24 hours races as ELS2900 and Hemavan24h, and orienteering races as BAMM, then of course the stage races we've done; Trans Rockies Run and Trans Alpine Run. A few weeks later we got selected to take part! And the final steps are some documents to sign and of course the not so cheap entry fee to pay.
How ever, our summer plans went all in for PTL basically. Less races than ever before and more adventure. In the middle of summer, we travelled to Peru and ran two high altitude races. And after acclimatized, we went on an 8 day trek and run around the wild Huayhuash. It was probably the best preparation we could get, since it was super tough mentally and psychically, and some of the most breathtaking landscapes we ever have visited.
How ever the day for PTL came. But we weren't all set. The two gps-devices we had borrowed, were too old for bluetooth and also too old charging cables to put over via computer, we hadn't any adapter cable. So we sat there 10pm in the evening before the race not really knowing what to do. In last minute we got to borrow a third one that worked, but we hadn't tried it ourselves, so we packed it in our bags, but would only use our phones. All the gpx-files, waypoints and b-routes, were also downloaded there and we used Gaia App. We hoped we could charge the phones in the huts we would pass. After all, it was fine. Just an hour extra put on stress in between the packing, picking up bib and duffle bag, listening to briefing (that we came 30 minutes late too after running back and forth over Chamonix town to find the right building. It felt like a good warm up though. ) and also remembering to eat and rest.
During the course we would pass some huts where we could sleep or eat if we wanted to, we got 4 meal tickets, when they were out, we had to pay ourselves. Three times we would also have our duffle bag with our very own stuff, favorite snacks, new clothes, other shoes, spare poles, whatever.
Here it the mandatory gear checklist for PTL:
Minimum 2 liters of water
Supply of emergency energizing food (we snacked mainly Näak bars and waffles, and a lot of Snickers.)
2 head-torches in good working order with enough spare batteries to last for a week (We used Moonlight mountain gear 800lumen with 1300 batteries on)
Survival blanket (minimum 140x210cm)
Whistle
Mobile telephone with international roaming option (no masked number)
A charger (We had one phone charger each and also a power bank)
1 tee-shirt of breathable fabric (for change)
2 long-sleeved under breathable underwear
1 jacket and pair of trousers which are breathable and 100% waterproof. (We took our bigger Merrell rain jackets to be able to have down jackets underneath during the nights)
A waterproof cape (at first sight, useless, but in reality, very useful!)
1 pair of long sports trousers or leggings
1 pair of sun-glasses
1 waterproof pair of gloves
1 hat
1 glow-stick/light stick activated by bending (supplied by the organization)
1 multi-use beaker, bowl and cutlery for eating in life bases
Compass and altimeter
Knife
Crampons with minimum 1cm spikes (e.g. XTR from Yaktrax® / Chainsen Light from Snowline)
Helmet
Covid 19 Mask
Harness
Via ferrata type double lanyard (2 straps with absorber + 2 carabiners with locking system)
Personal silk bag (mandatory for sleeping in the refuge)
Mandatory gear checklist for each team
1 handheld hiking GPS in which all the tracks supplied by the organization have been downloaded. This device must be able to accept at least 20 tracks of at least 5000 points each. Warning: the smartphone and GPS watch does not replace the handheld hiking GPS.
The Roadbook and the route maps supplied by the organization
An emergency shelter 100% rain and wind proof and large enough to shelter all team members in case of emergency or very bad weather.
A candle and a lighter (to warm up the shelter in case of injury and/or risk of hypothermia)
A first-aid kit to allow the treatment of small injuries and minor infections
Cash (euros and Swiss francs)
Passport
We used a 20L bag for all of this, and that was enough.
Other equipment strongly recommended for your safety (including but not limited to)
A small stove, mess dish (per team)
Walking poles, (Our Leki, red and pink were used through out the race)
Other spare clothing,
Micropur tablets or water filtration system (We only filled up water where we were sure it was clean)
String, sun-cream, vaseline or anti chaffing cream … (we had sunscreen with us)
Sleeping-bag 200 gr. (We had these in our duffle bags)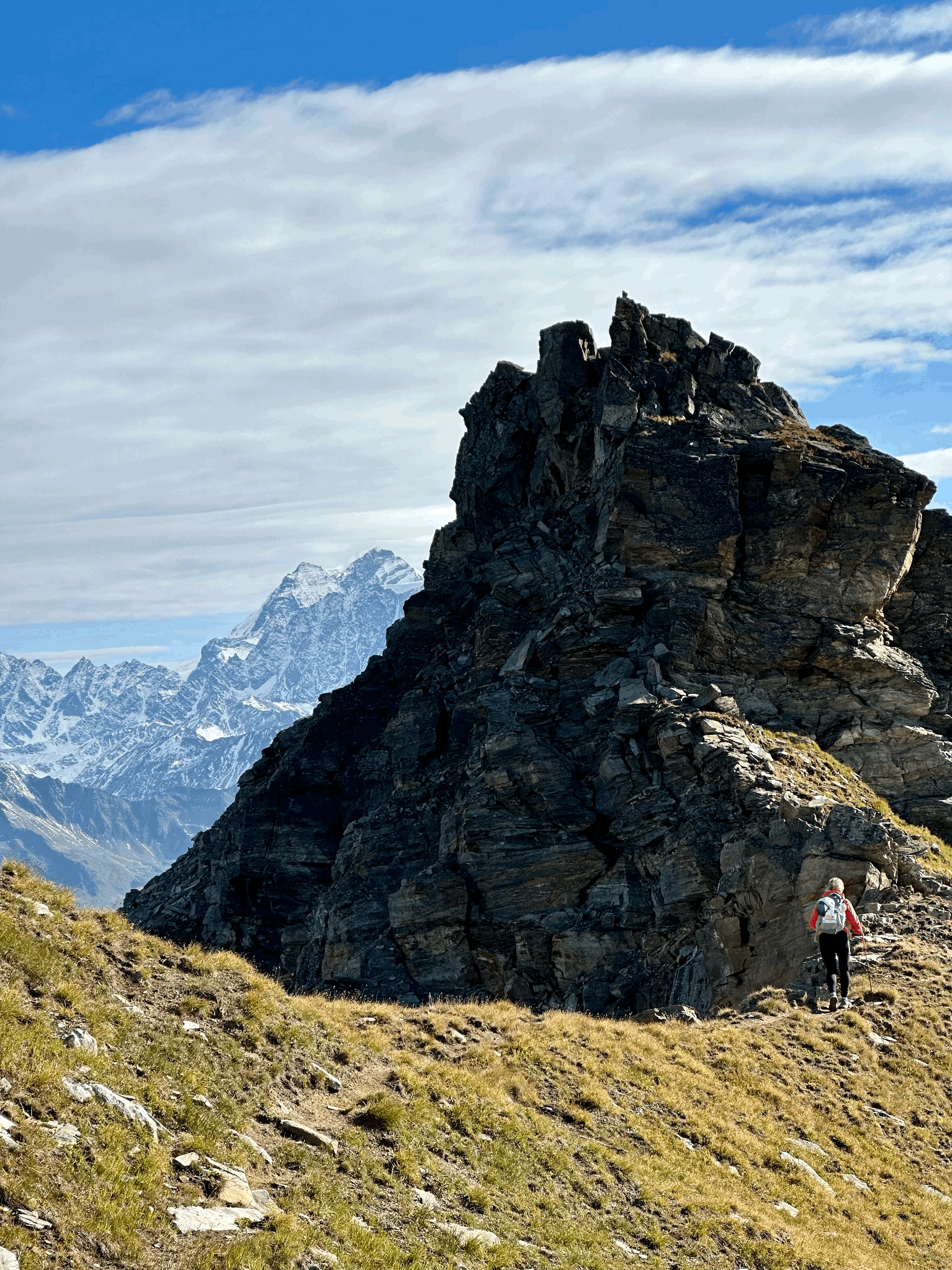 START
310 k to finish
PART 1, Excitement, rain, fog and darkness
The clock rang 05:30. The Sky was pissing down. The bags were packed. Well, almost. There is always something that has to be stressed squeezed down last minute. But at least we felt prepared. Many teams looked on us like we were kids, and we felt like it as we decreased the average age a bit. But age is not relevant. It is the number of hours outdoors in demanding conditions and exposed terrain that matters. And without doubt we have put ourselves in those kind of circumstances enough times to stay on the start line of PTL. We hope more young teams will be on the start line other years! (And after all, we are not THAT young anymore).
Seeing everyone else covered in their rain ponchos, looking excited and frightened at the same time in a way made us in a good mood. It felt even more adventurous! The music in the start always build up the excitement, and you could feel the tension in the air.
We waved farewell at our friends who had shown up this grey morning to cheer us off, and it us made us bubble inside. Sanna would be the first navigator with the gps on her phone close to hand and Lina wore the altimeter watch, telling us when we would be on the wrong way.
Finally we started! The waiting was over! Running through Chamonix towards the unknown was a fantastic feeling. We had a steady pace and got to the climb in the forest with the front group. After about half an hour Linas watch which she had borrowed from Petter Engdahl made a noise. We didn't take much notice since we rarely use watches, I guess they make notes every now and then? But after a while some stressed guys with their GPS in the air came down again and we all understood we had missed a turn and gone too far. The watch would help us many more times the coming days…
This early in the race it was like a train on the trail so now it got a bit messy. No one thinks it's a race, but everyone wants to race and not be behind… We fell back in the crowd and was a bit frustrated since we wanted to go a bit faster up here, but it was just to accept it and to overtake later on.
The higher we came the whiter the ground. So beautiful! We love winter and snow, so these wintery conditions made us happy. For sure it was cold and our gloves were already soaked and frozen. We were cautious not to slip and injure ourselves already the first hours. We had now also stepped away from the trail and into a field of big rocks leading straight up. The real PTL begins… Up, up, up, almost crawling over the rocks, trying to find our way in the slippery and pretty dangerous landscape. Our crampons were supposed to be used on one glacier, but since everything was like a glacier at this point, one team after another started putting them on, so did we. It was fascinating to see so many being up in these circumstances by own choice.
The group spread out thanks to the gnarly terrain and when we were at the old Aguille du midi lift station the first decent began and it was a stunning view of mountains forcing their peaks out of thick clouds. The downhill felt longer than the uphill, (isn't always like this?) but when we reached Les Bossons the Lumento photographers met us we got high spirits again. Merrell had hired them to follow us at least in the start and last day to get a glimpse of us during PTL.
The second climb was tough after smashed legs. But we weren't worried so early in the race. We have done more intense non stop racing before, and energy levels comes and goes all the time.
Next couple of hours flew away, we passed the lift station plateau of Les Houches, also with the filming crew making us run faster than we knew we could. And then we headed towards St Nicolas du Veroce. I have some bad memories from there when participating in La montagne'Hard in 2017 where I got picked up by helicopter 2 kilometers from the finish line where I had collapsed of dehydration. How ever this time on PTL it was the first aid station where we could come inside, have some coffee and cake before continuing forward. It seemed the other teams stayed a bit longer, but we were restless and eager to continue when energy was good. With filled stomachs we went up towards Mont Joly. It could have been an amazing sunset on this ridge. But instead, we fought against strong winds and heavy fog. But we felt like Sam and Frodo making their way up the black mountain.
Almost at the top we put all of our warm clothes on with the rain cap on top. This means, three layers of wool base layer, one down jacket, the big rain jacket and rain cap. (We brought an layer plus down jacket, because we know it is better to stay warm than cold and not be able to help yourself).
Our strong MoonLightMountainGear headlamps helped us navigating forward and downwards. The rocks were frozen and slippery, and soon the trail became a big grassy and muddy slide. It is fascinating how darkness makes navigating so much harder. We could only rely on the gps and watch and not what our eyes could see, because it was total darkness and just some lights here and there from small villages further down the different valleys around us.
Suddenly there were flags set up on another direction than the trail we intended to take. We thought it might be the organization leading us another way down. But as we followed the flags for some 10 minutes it felt totally wrong. And we changed our minds again and ran back. Frustrated on each other. As soon as we came into the trail again we were followed by 8 flashlights behind us. Okay. On the right tracks obviously.
We arrived at the first refuge, La Gittaz, wet and cold. At first it felt nice to come inside, but it was not too nice there, and we wanted to continue when we weren't tired. So we quickly shared on one pasta and coke before we continuing only 11 kilometers to the next, Plan de la Lay. La Gittaz wasn't a very nice place to stay longer at, and the beds where we could sleep if we wanted to were in the same room as the tables, so there wouldn't be much sleep anyway. It was far from pleasure we stepped out from the warm hut, trying to tie our shoes again with stiff fingers and once again be pissed on by the rain and enclosed by the night.
The 11 kilometer we thought would go pretty fast went for some super tough hours in an icy and snowy landscape with never ending hills. The positive thing was that we didn't have to put energy on navigating since our mates in front of us had make excellent shoe marks in the snow leading us on the exact tracks. We could with no doubt conclude it was the right way since the PTL group was for 100% the only stupid people this high up in the mountain in this kind of weather.
At a trail sign we could read the name of the next hut just 3 kilometers away. But our gps pointed the other direction and a long loop around. Tired and at this point pissed off on the organization we headed where the arrow pointed and kept our tongues straight in our mouths as we faced a vertical downhill with sideway steps and a deep black whole on the side. One wrong step and we would have been dead. We survived and ran trough a tunnel in the mountain which made us in a better mood. Adventures need some adrenaline to be real adventures, isn't that so? We went down more mud slides without breaking our legs and finally reached a hut where our first sleep was planned.
By the fireplace the teams before us had already hung their wet clothes to dry, at least a tiny bit for an hour or so. There wasn't much space left for our stuff. We charged our phones and head torches. Got some hot soup and pasta and went straight to bed for an hour. We could easily have stayed the whole night, as the one hour felt like 5 minutes.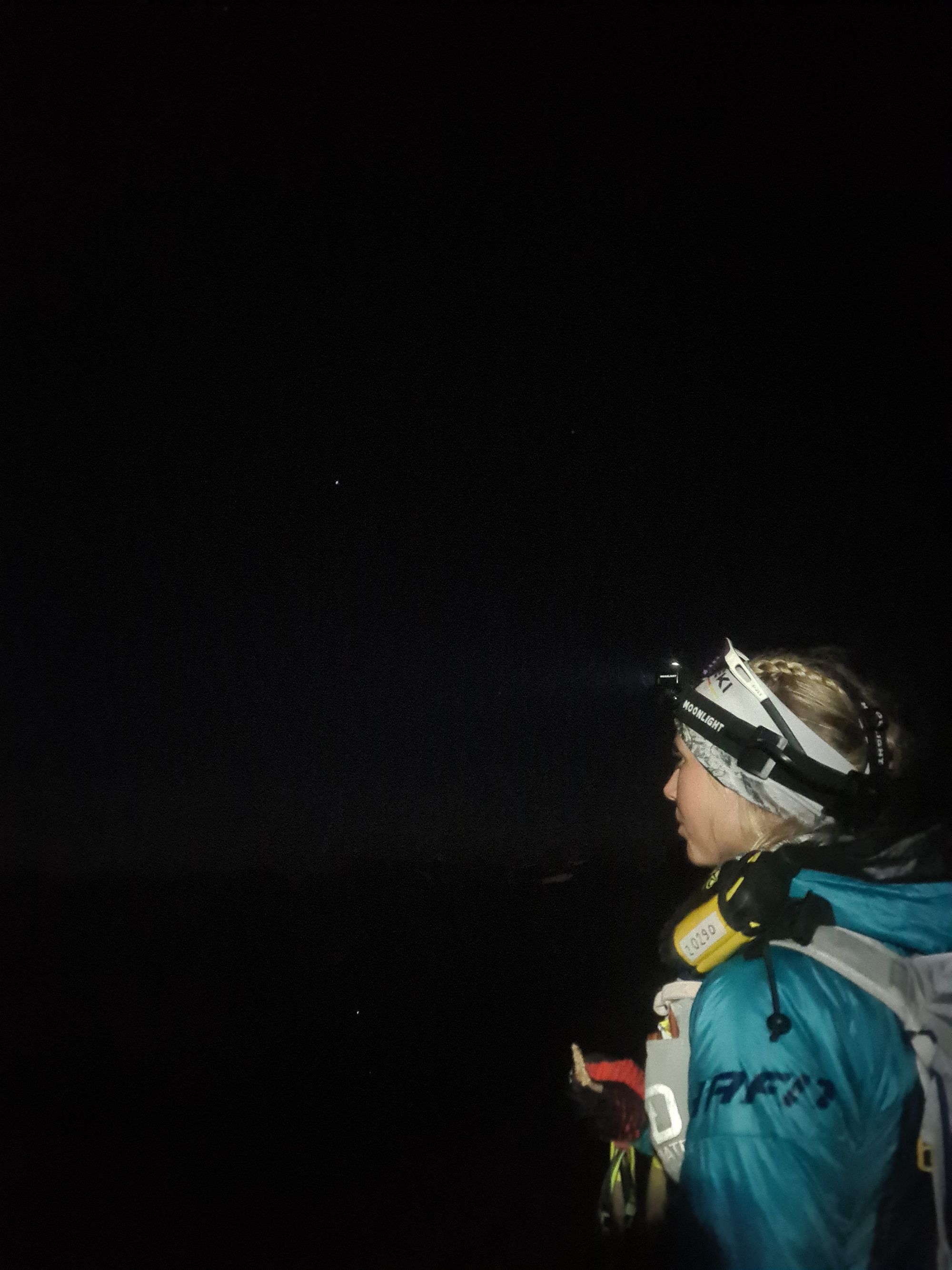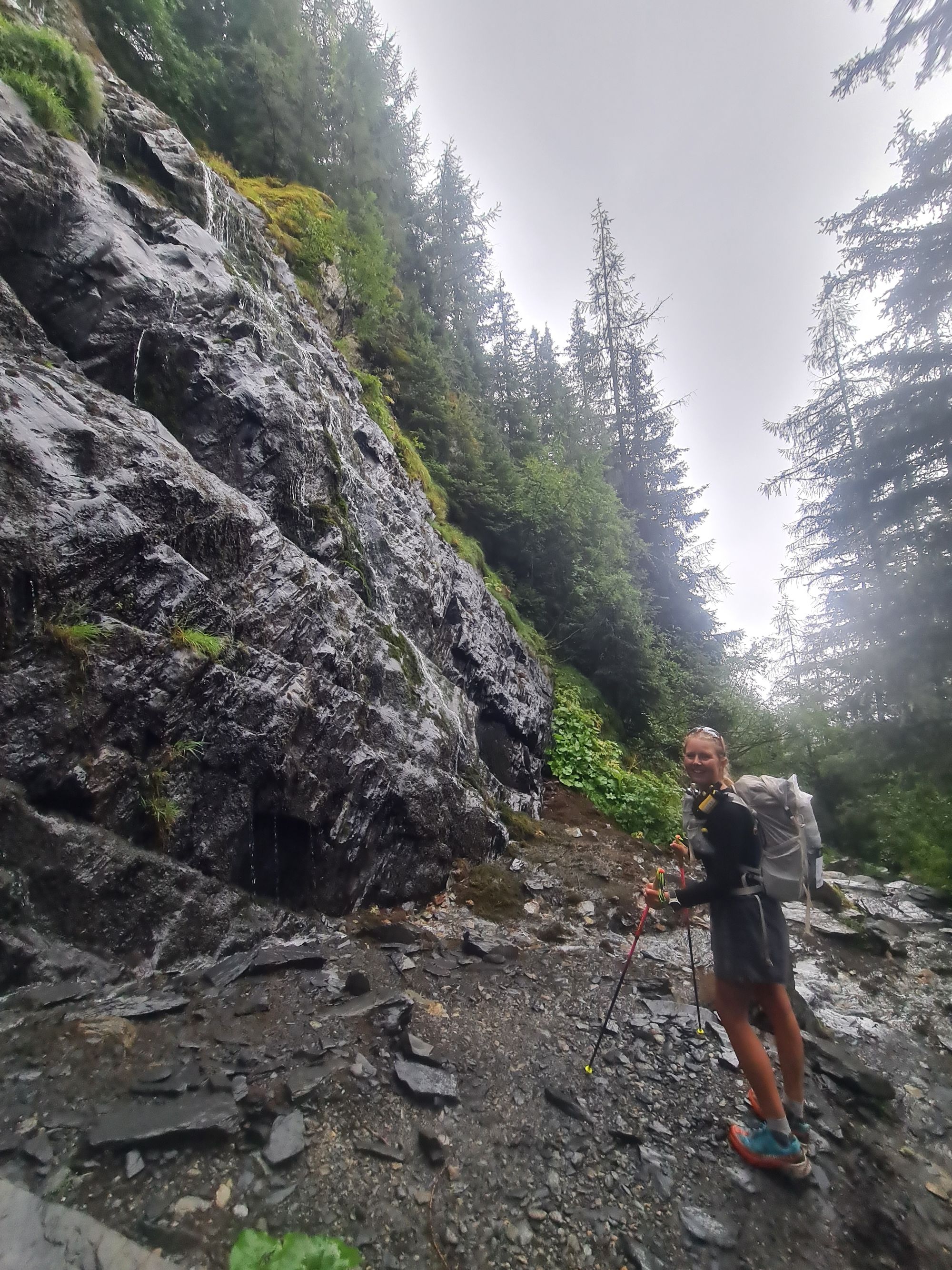 77k done, 233k to go
PART 2, Snow and joy, mud and misery
When we went off again it was light outdoors! We could see a little bit more I front of us and got the feeling of Scotland because the hills around us were dark green and the clouds still heavy. We wanted to run as much as possible and now it actually started to be some smooth and nice trails here and there. Lina felt some intense pain in her knee so we stopped and taped it which helped a bit. When wet came higher up the course was a bit changed due to all the snow, so we followed some flags up on a col and met a volunteer who cheered on us and told us to put on the crampons again on this section. The climb up felt longer than he had anticipated, but finally we were on the top and on our way down on the other side.
Thankful for the teams in front who made the tracks so it was so much easier to see where to go, after a long downhill meeting only one team on their way up the next pass, we came to the hut, Refuge de la Balme which we longed for. Now some rest and food! We didn't plan to sleep here, just reload. The other female team just left when we came and we wished them good luck. At the beginning we had kind of raced with them, but now our main goal was to finish! After food we had espresso which gave us that extra kick, and also talked with the Italian team Argonauti which we would meet many more times later.
A low point had caught us before the hut, asking ourselves why we did this, but now we really felt how much energy some good food, social talk and rest can give! Like new humans we had some really good hours up in the snow, it was very, very steep at parts but both up and down we were so happy. This downhill run part was the best with the flow in the snow continued by smooth trails down the valley.
It was probably close to where we had ran Pierra Mehta Été previous year, and it is so beautiful! Just in time we came out on a road where the where last TDS-runners came up. It was so fun to meet more people to cheer on, knowing where are in this together.
We ran out on a street with some restaurants and a bus stop. Les Chapieux. There were many people here, probably supporters to TDS. It took some time before we realized there should be a small aid station for us here as well. It was later on found behind a building. We put our mouths full of cookies and small sandwiches and started hiking on the asphalt. It was afternoon already. Both of us had energy, but now pain started to bother us more and more here and there. It was more limping than walking. And we hadn't come longer than 100k. But the pain came from previous injuries we've had in knees, hips and ankles, so it didn't surprise us they appeared. But we felt we could continue without risking hurting ourselves afterwards. We tried to concentrate on the beautiful valley that was empty of houses, just one or two old farms and a perfect biking road. Here we would love to come back both summer and winter since it looked amazing for off pist skiing. We were on a scout mission for other adventures, in our adventure!
Next stop, and our sleeping target, was Hospice Du Petit Saint Bernard. We tried to stay positive and in an happy mood despite our low pace. Actually, the teams who passed us at this time, made us motivated and happy, just with some small talk with other people. It isn't really a race where people try to beat each other, everyone support everyone and wants as many as possible to reach that finish line so far away. A guy asked if we had some medicine for an upset stomach, and it was a pleasure to pick up our medical kit and give him what we had to solve it. We later heard that it had "saved" them which made us very happy.
Chamonix for us though, felt undoable now, but we only focused on next aid station or hut, and by then there were ant steps getting a bit closer every hour. After a clear and easy flat trail we headed to a zig zag and much smaller one, sometimes disappearing in grass or small stones. Also the sun had set and we once again put on our full gear and head torches. We didn't want to go into the night, everything went so much easier in daylight, and mood was also easier to hold up.
As we were reaching Col de l'Ouillon, just meters from the final top of the col, the trail separated and it was just like a black wall. We didn't want to climb vertical in the dark, if we fell… So we took first one side and then the other, we put our crampons on again with shaky hands, because even on the trail, just one step aside was very step, 100 meters down. After too long time, we had no choice but climbing up our own way and on all four we found ourselves a few 30 meters above the col, on the other side. We still don't know where the real way was. Maybe we should come back in daylight and have a look, it can probably be easily find.
How ever, the other side was covered in snow, so we started following the tracks as before. But suddenly all steps were coming together and out from each other in a crazy order here and there. We checked our gps, and the arrow turned every second different directions and couldn't decide where on the map it was. We were in middle of two high mountain walls. So the gps couldn't find its way.
The ground was insanely slippery. Grassy meadows, step as hell at some parts and we saw butt marks from others who had slipped and gone for 100 meters down. We didn't want to do the same. The new snow got stuck under the micro crampons like snowballs making them useless, and we had to kick the snow off every third step. It took ages to come down the steep side. Once the snow was gone there weren't any tracks to follow, neither a gps to trust, so the only trail we could see on the map we decided to find. That trail came and went away and got together with a bunch of cow trails popping up here and there.
After awhile we just let go off the trail and focused on just having the compass in one direction and hold on that until we got to a clearer path. And we did. To the muddiest and shitiest there is. The cow trail, it was the trail we were supposed to run on too. All foot steps were back in the deep sludgy mud combined with cow shit. It wasn't super nice, but at least runnable, so we just ran and ran and ran.
This never ending mud hole finally ended as they all do. Now we instead were facing a big hound barking at us and showing its big sharp teeth. It was inside a sheep fence, but it looked kind of ridiculous that this beast wouldn't jump over that to kill us at any second since it was very angry. We instead jumped off the road to come as far as possible away from the tyrant.
The navigation continued to be very tricky and it took a long time until we found ourselves up on a steep mountain on the tiniest of tiny trails you could find. But the verticals must be shaved off so upwards we went.
The uphills aren't the worst actually, you can't go so much faster than you do, it's just to go on. But the downhills where you want to go fast, but it hurts everywhere, there are rocks, snow, grass or mud to stop you and they are just a night mare. For Lina this part was the hardest. When it's pitch dark and you don't know if you have 1 or 3 hours left out there until you can have a break, it was very mentally tough. Some tears and encouraging hugs from Sanna and we came to the big house of Petite St Bernard.
We were welcomed by the staff and here we got our drop bags, so we could directly change to dry clothes. The meal here was a catastrophe. Cold rice with green peas that weren't green anymore, an ugly sausage and bread. Lucky us we weren't so hungry, so we had 2 hours of sleep and then got help from a nurse to fix our feet that now were trench feet. (When your feet look like raisins). They were in a really bad shape. The morning came, and everyone had said that the weather should be nicer. But when you look out you could only see grey, grey fog. It was not easy to get out there again, but we also got restless so once ready, we were eager to fight again!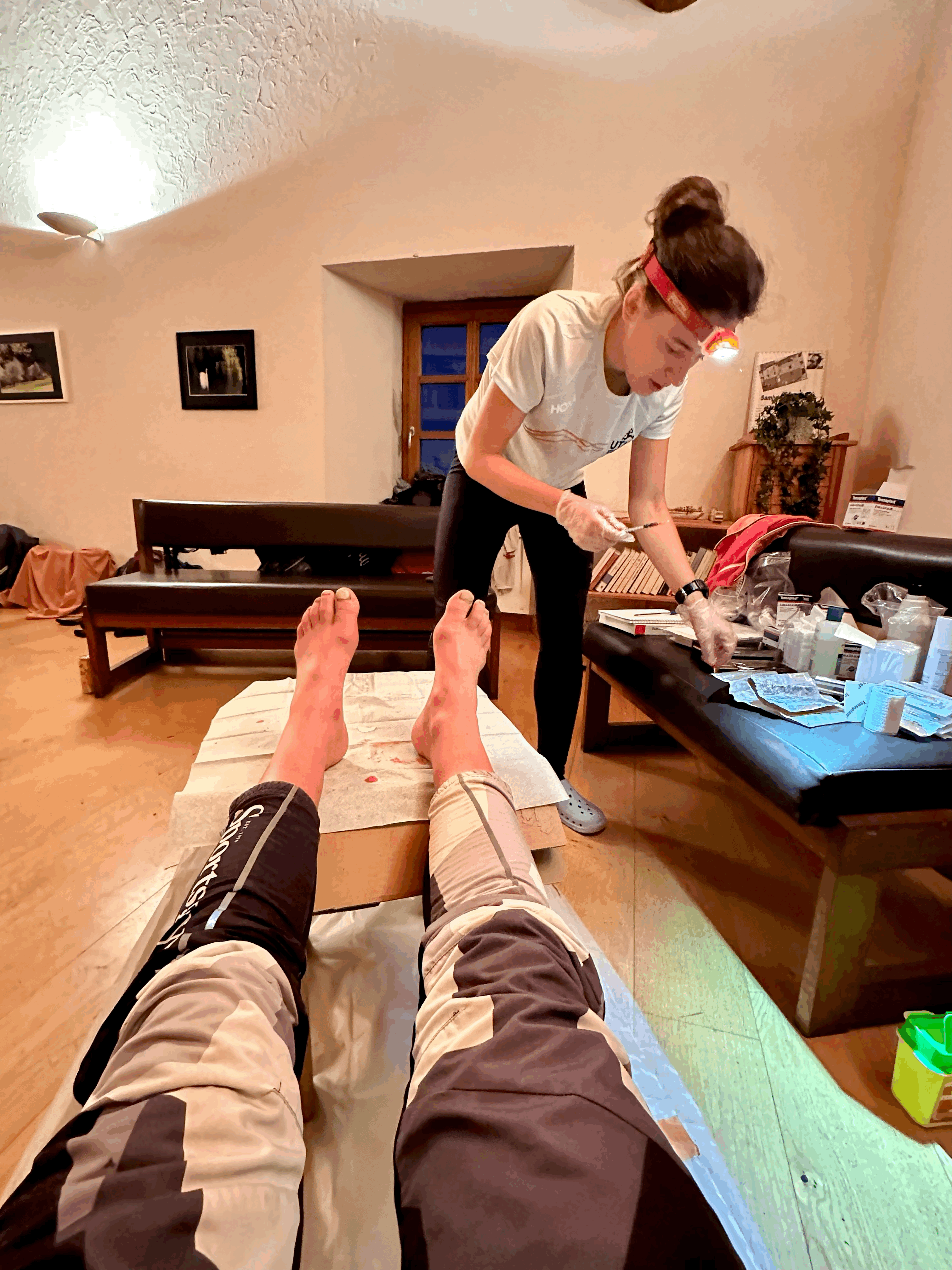 133 k done, 177 k left.
PART 3, Skies clearing up
We started in ski slopes which later came into beautiful trails where we could try some blueberries that grew everywhere on the side. The weather actually started to clear up, and with that the mind and body also do! It was easy navigating, just following trails this time, So revealing. We had a great time and enjoyed the day. Though we were at every step reminded of our feet. It hurt so much underneath. Team Argonauti caught us again on the other side and we had company up to the memory of (Jean-Claude Marmier, creator of PTL). We had to let them go in the downhill since Linas knee again gave us problems. But we had time so just took it slow down to the Refuge Ruitor where we had heard on the way from the Norwegians that it was very good food. We were not disappointed either.
Three course lunch and off again. We passed a beautiful lake on our way up with big rocks to climb over to reach a high pass where we put on more clothes. It felt like we were putting on and off clothes all the time, but since we went up and down mountains all the time it was necessary.
We came to the most beautiful part of the course with stunning lakes and views. Now some more runnable trails came and also some teams passed since we had mostly been walking down. It filled us with adrenaline and some competition will, so pain disappeared for a bit and we could run really good! When that happens the whole body and soul just scream of happiness! The following hours we had sun and other teams around us and a wonderful time. It was a great mixture of nice trail, scrambling and being close to a waterfall and a big glacier. So we can really recommend to run from Refuge Ruitor to Refugio Deffeyes, (and run around the lake to get a few extra kilometers and arrive to the refuge from another side). Most stretches were super nice, but here we had one of our highlight moments.
In last hour of sun we arrive to Deffeyes, got black berry pie and double espresso and went off again after a quick stop, to reach the col in sunset. The refuge had been busy with lots of Italian tourists celebrating something, and all of them cheered on us as we ran away bubbling of too much caffeine. The valley towards the col was on the other hand completely silent and peaceful. With the evening light it felt like a magical place.
On the col there were some Nepali flags and we stopped for a moment enjoying the nostalgic thoughts from our hike trip to Nepal last year. The descent towards Morgex started. 1900 meters downhill was in front of us. The first part was great prepared with stone stairs, big yellow reflective arrows that we could easily follow with our head torches.
Down in the forest the Italians had taken a wrong turn and came up from another direction and then started following us. They were too tired to navigate themselves anymore. Both of us could run at this point, and even though the decent was long, the first part went fast. But once out on a dirt road, we thought we were almost there. Which we were very wrong. The light of the city was unbelievably far down and we were terribly high up. Our poor bodies were out on the steep trails for at least an hour more until we at last saw the life base in Morgex.
Sanna had twisted her ankle somewhere, somehow, it swelled up and she could barely stand on it. It was like a big tennis ball on her ankle. She was in so much pain and in a very bad mood because of this. We really thought it was the end of PTL for us. But we put 1 hour alarm and slept on thick madrassas in a gymnastic hall. She had her feet high towards the wall. She didn't get much sleep, if any those 60 minutes. But she put a lot of Kinesio tape in different angles around the ankle.
We hiked away, still in darkness. It felt like such a long night this time. A long zigzag trail steep uphill. But then promptly Linas watch beeped that we were on the wrong way. We hadn't seen any other trail crossing. We were about 30 meters to the right. But no way we would go down the steep trail, trying to find the non-existent trail in the bush. We decided to go to a road above that would shortly cross our main trail. It was a big mistake and would cost us probably 2 extra hours of misery. In briers we fought like in the Amazon to find a little trail from the road that would led us to Our trail. But there were only more thorns to rip our bare legs. We looked like bloody cats coming out from a fight for their lives when we finally reached Another trail, that could possibly cross Our trail. We walked in silence after we had shouted ugly words on each other in the misery. Both now kept our biggest hope we would come up right. The relief when the watch finally were happy again!
The sunrise that we had hoped to see up on the mountain could now be noticed through the thick branches in the forest. Too much time spent on so little moving. So when it was very clear where we were going we marched on. Above the tree line was so good. And believe it or not, it was clear blue skies again and the sun had already started to warm us. We soaked in the views and enjoyed being on a trail, because just some minutes later, we would leave the fantastic trail and go straight out in nothing. The organizers liked this, to put us out in no mans land, no traces or steps. And we did too, when we had some views, it hadn't been so appealing though in rain and thick fog.
We hiked on with a few other teams to a top between Colle Serena and Col Fetita. Think it was Téte de Serein and Téte des Fra. The light was magical, the scrambling and the easy ridge was fun and all teams were in a happy spirits. We shared on a raisin brioche and with pleasure we covered ourselves in sunscreen. After this our speed decreased again. Both of us felt fatigue pouring over us. Another brioche and cookie stop and we continued off trail, kept the others teams backs in our sight. At Col Citrin it was easier terrain and once again our energy went a bit higher. It really went high, dropped to the bottom, rose again and kept on going like that. We overtook everyone up to Mont de Flassin, just to be overtaken downhill again towards San Rhemy en Bosses.
Linas knee had stopped us before, now it was instead Sannas ankle that got worse and the speed decreased from slow to snail pace. Bottles were empty, next river would be a 900 high meters down the valley, sun decided to have bbq. I wished we could enjoy this ridge and trail, because it was truly beautiful and could have been amazing to run in another shape. Now it was only struggle an tears pounding in my eyes. Lina went in front and disappeared. Eager to run once she hadn't pain. I felt left alone and burst into tears like a little baby. Lack of sleep, dry mouth, over heated, and ankle pain were a great recipe for a wet, salty face.
When you think you'll never come down, you finally do anyway. The little river was the best happening on the whole day. Body relaxed after panicking in the heat, and after that everything went a little, little bit better, even though we didn't speak to each other anymore. At the aid station Sanna sat in silence, chewing on some snack, refilling the body, whilst Lina tried to keep the mood up by chatting with the volunteers and the other teams. Also everything gets better with some micro resting and food.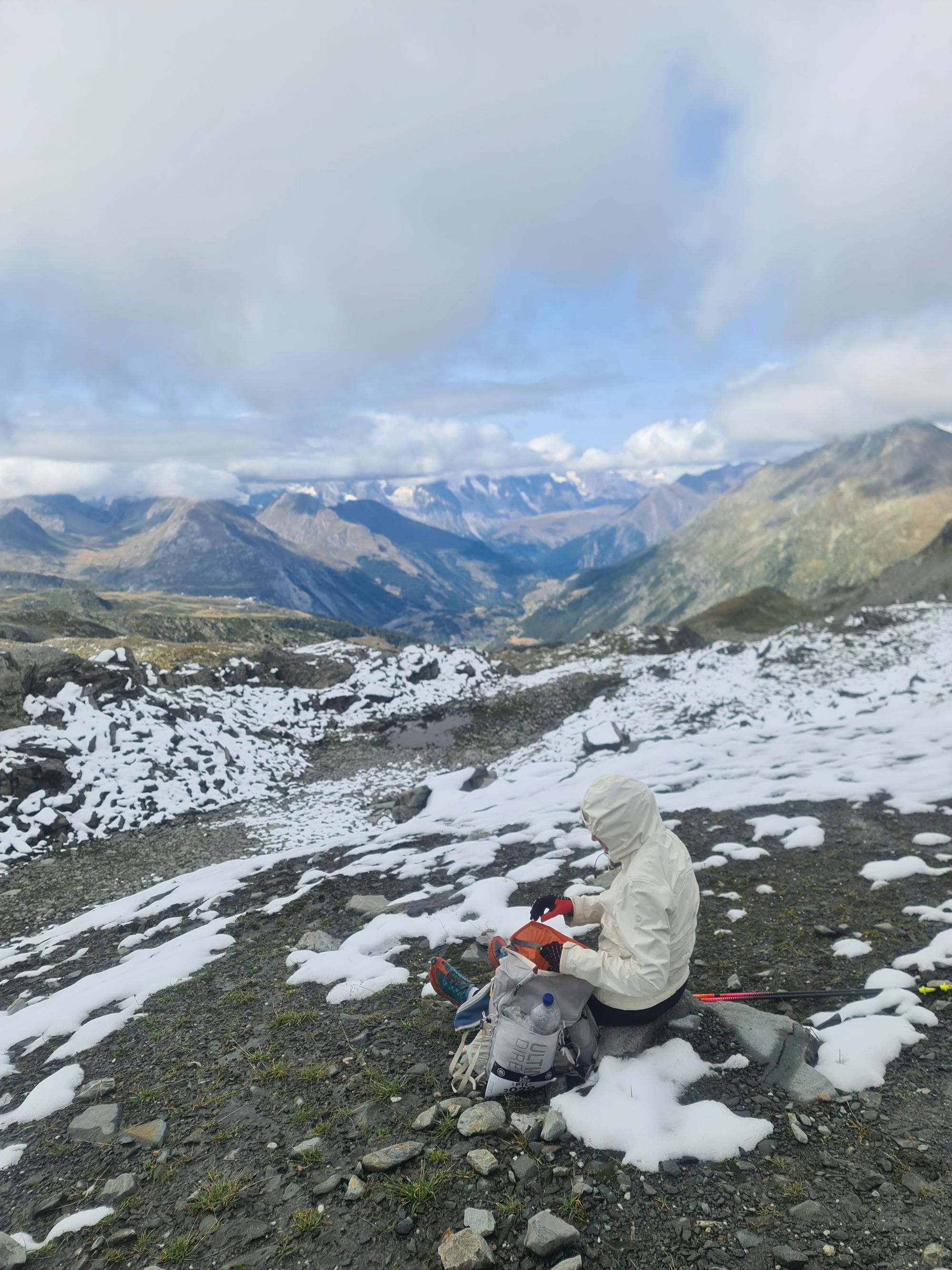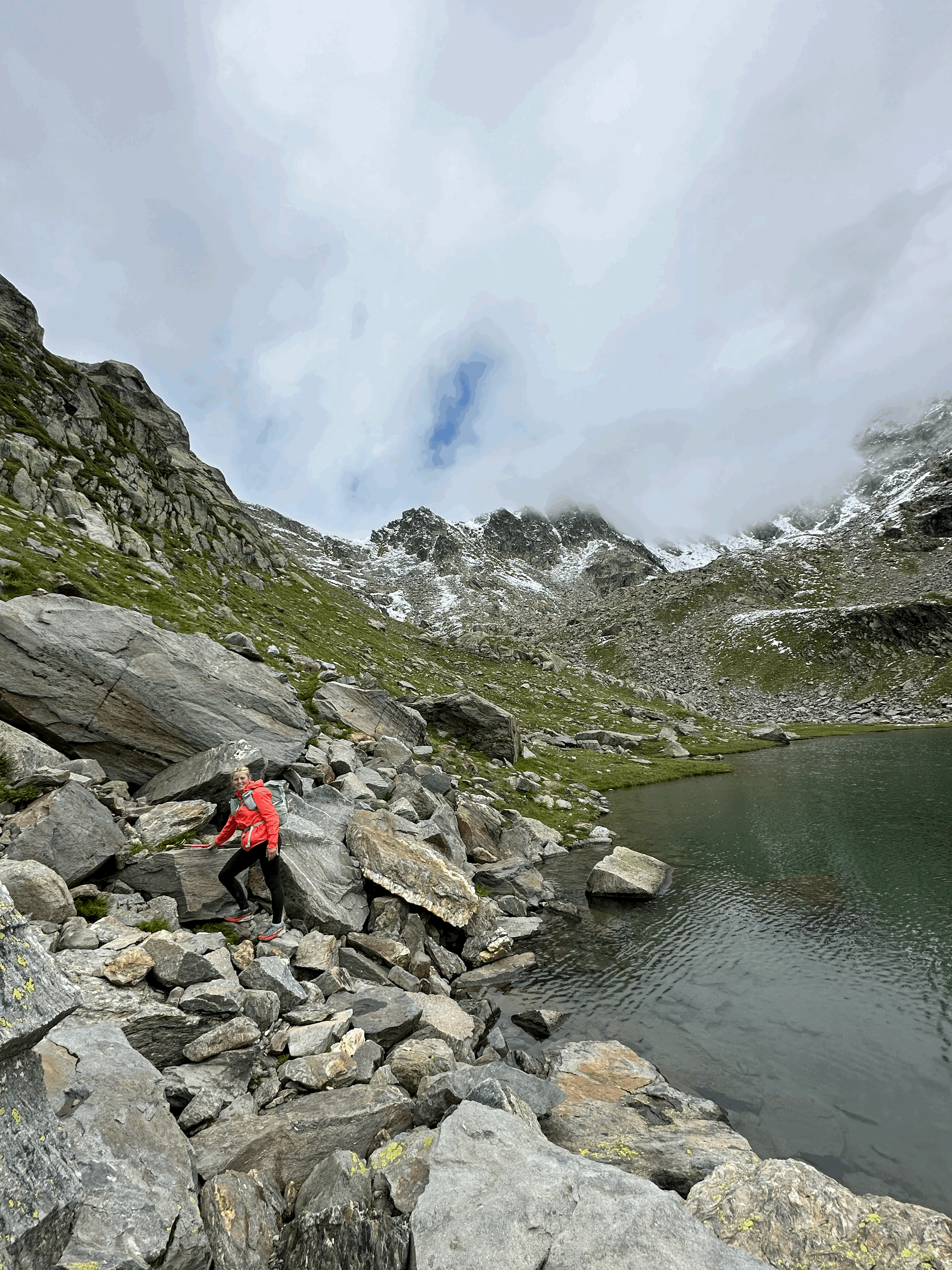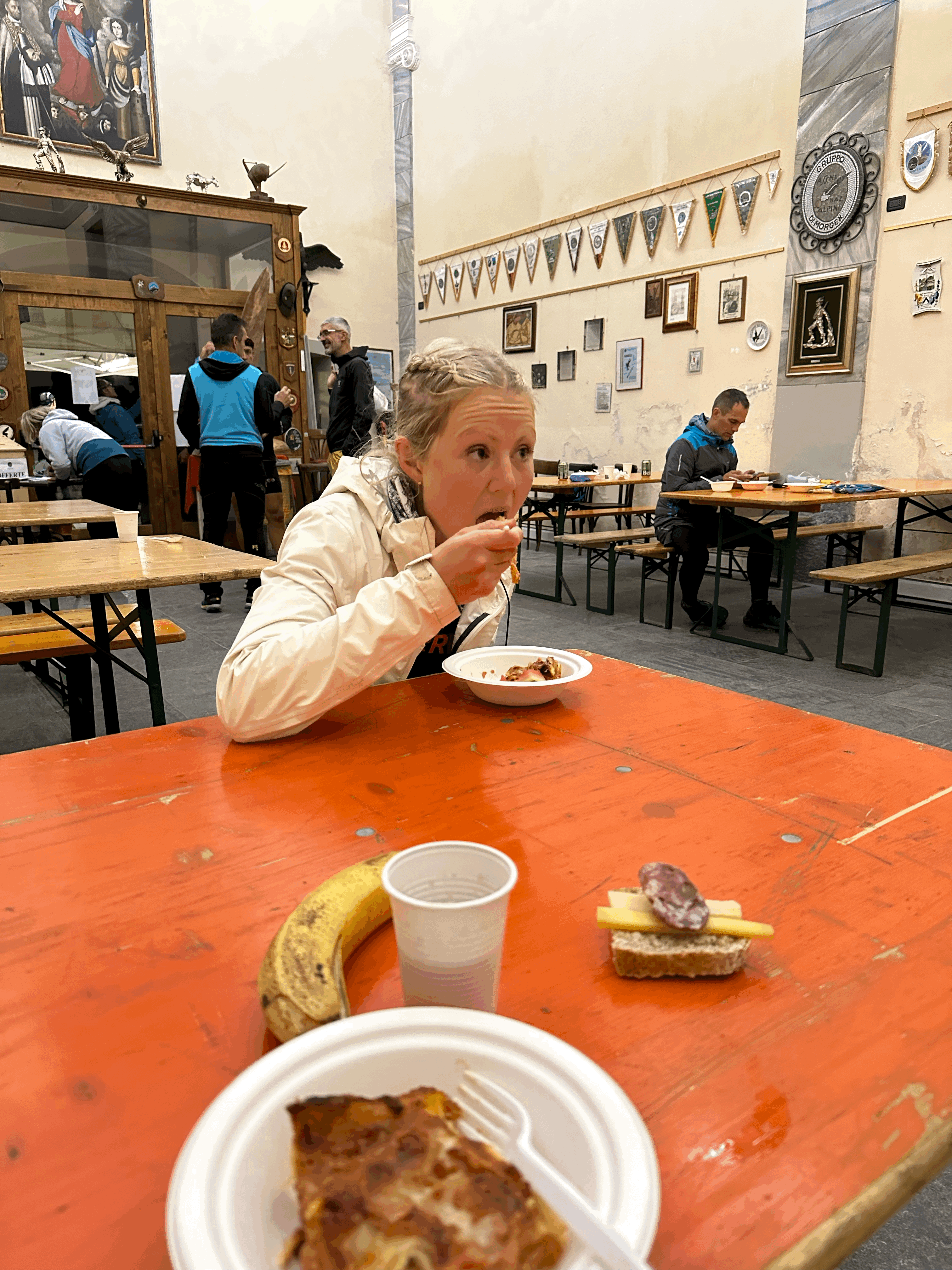 199K done, 111 left
PART 4 , New start, friends again, High on life
Soon we were on the go! Instead of the Italian team, we had now same speed as a French team, Les X-traordniaires24
We followed the X-traordinatires24 up a grassy hill. It was probably meant to be a short cut instead of a zig zag trail on the gps, where in reality the trail didn't really exist. For us it went slower, it was painful for our feet to walk in such deep grass, steep and uneven ground. And we regret we followed them instead of making our own way closer to the trail. Once on a gravel balcony road we could relax again and look what we had around us. It was very nice up to Col de Saint Rhémy, and there a happy photographer filmed us with his drone on a ridge. Before we descended towards Grand Saint du Bernard. Due to the heavy snowfall the other night we unfortunately had to take the B-route here, missing the Via Ferrara and cool trail up, Mont Fourchon, Pain de Sucre and scramble to Pointe de Drone. We have comeback and do them another time!
We hadn't checked the b-course on the gps, and just followed the trail we were running on towards a bigger road further down. Our third bigger wrong turn. We had lost a few hundred meters and ashamed walk upwards again. Always angry on each other when something goes wrong, it is always the other ones fault. Our feet hurt so much underneath. The soles were destroyed from the wet hours, and it was really painful.
The dark came and we were wet and cold and decided to take shelter at the restaurant and Grand St Bernard, which also the other team had done. A well needed double espresso and sandwich, warmer clothes and we could continue in better spirits!
It was a fun way up next col where two Marshalls cheered on us and told us it was less than one hour down to the refuge where we could have some sleep. (Never trust a fit mountain guide several days into a race about time) It was looooong. It always gets longer when you have a goal to reach that you think is close. It was funny though to be in this area summertime, since we skied here some years ago with our friends Deborah and Werner. Great memories!
The Caban Plan du jeu didn't lay next to the road we came out on, as we thought when we saw lights from above. The lights came from a parking garage. The hut was a few hundred meters up the mountain. All those misunderstandings or thoughts takes a toll on your head and you really have to work a lot with your mental strength. At the hut we were so tired so we went to sleep directly. There weren't any blankets or anything, so we took our rescue bivy blankets and slept in them. I (Sanna) woke up several times with an awful pain in my whole legs. I wanted to crawl out of my own body, not knowing what to do with myself. It was a weird muscular pain which really drove me crazy. I called for the volunteers and they ripped off med the survival blanket. And the pain vanished. My legs were probably overheated in the sack, which is not meant to be used inside, but outside in cold temperatures. I got to borrow a towel and could shower my legs in ice-cold water to get them in a better condition. It was an awful experience and hard to describe. Thanks a lot to Tom and Karima! After some more food we settled off in the dark.
The French guys left at the same time, and we shared some kilometers together again. It was a pretty fun trail along the mountain until the sunrise and we headed into a beautiful valley towards Cabane du Velan. We met the other female team and also the team we helped with the stomach issues, and they felt so much better!
The climb up was super fun including some ladders, putting our crampons on again as we reached the snow, an welcoming the first sunbeams in our faces on the spectacular ridge in front of the cabane. In these environment we feel the best. We were really high on endorphins reaching the spectacular Cabane du Velan. And the people working there were super happy and we were so high on life. The weather was amazing and the views astonishing. We could have stopped there and then and just enjoyed the stunning scenery we had in front of us. A 15 minutes nap after some food and we had to descend again if we would ever finish PTL. Unfortunately, next alpine section was also removed and instead we had a b-course to harvest. But in the heat that followed, it was as tough down in the valleys as further up where it was at least cooler…
At every river or water tap we soaked ourselves. And life was pretty good. We had a mixed team in front of us that had been around us all the days. It was another team that looked almost the same as them, one bearded guy, one skin head and one dark haired woman, but there were two different teams. It was pretty funny every time we were close, to remember which team was which. They were all super nice!
It took us almost the whole day to come to Orsières in the warm weather. Nothing spectacular, just a trail, a road, a trail going down,down,down. We were grilled.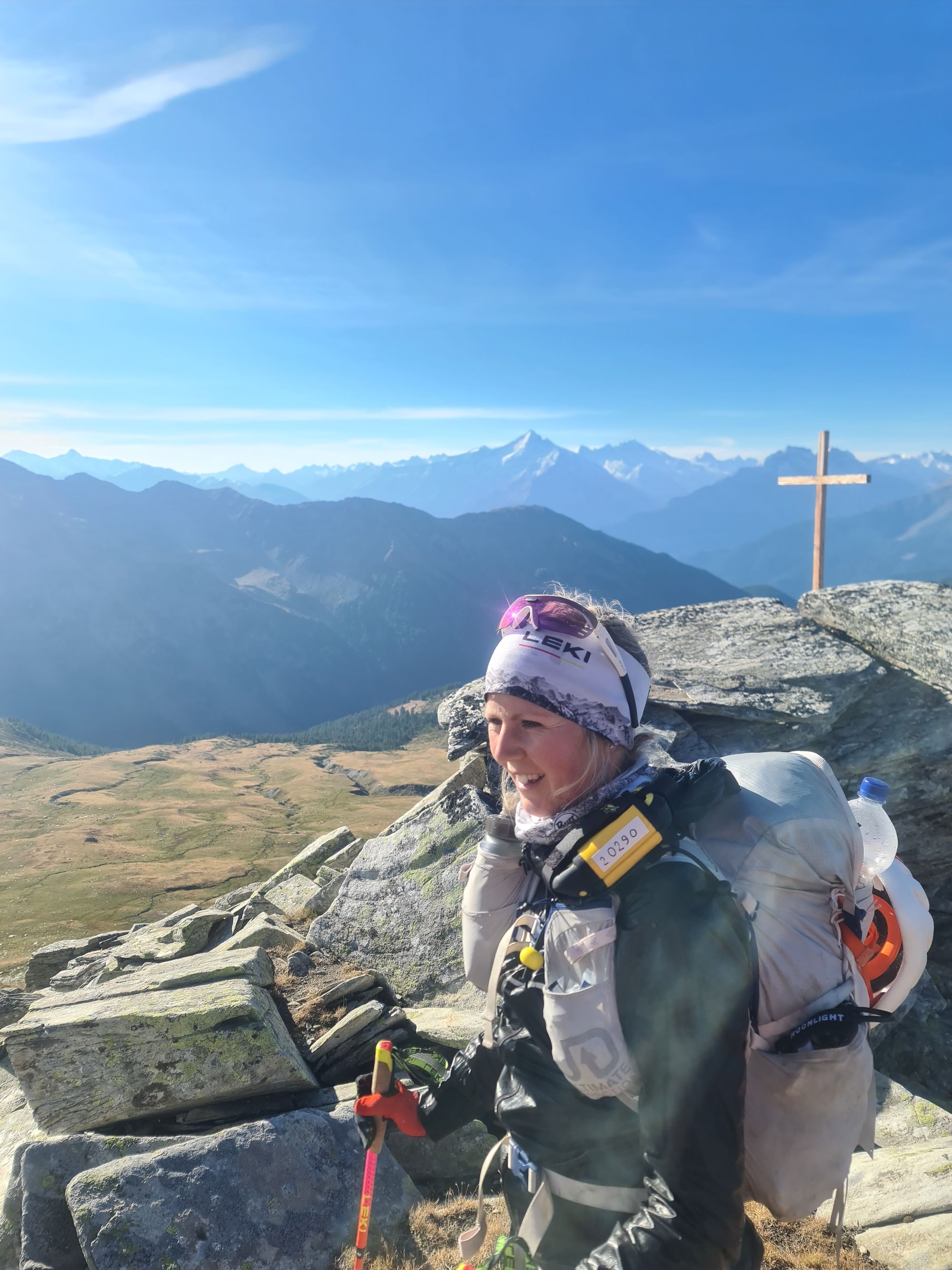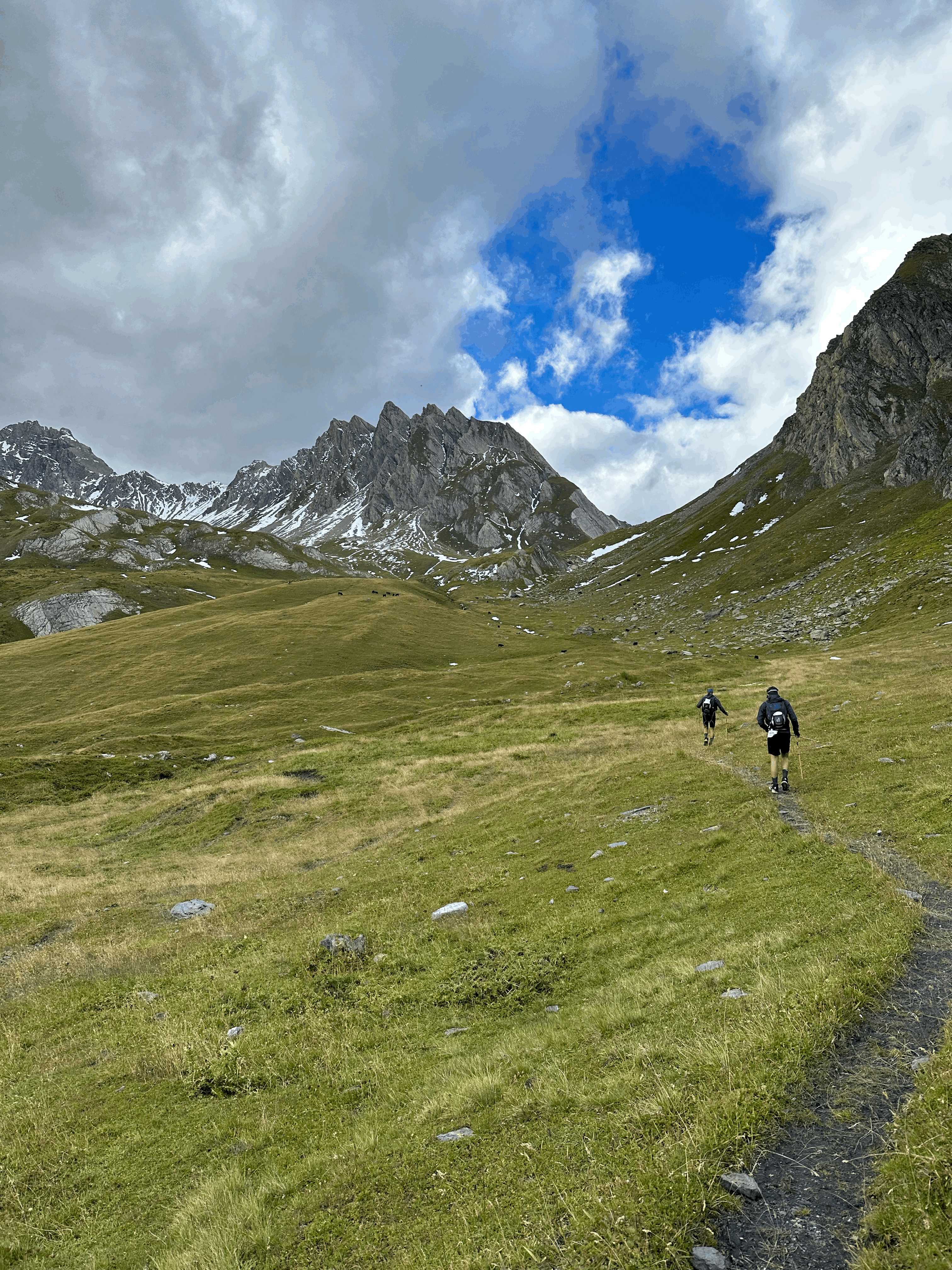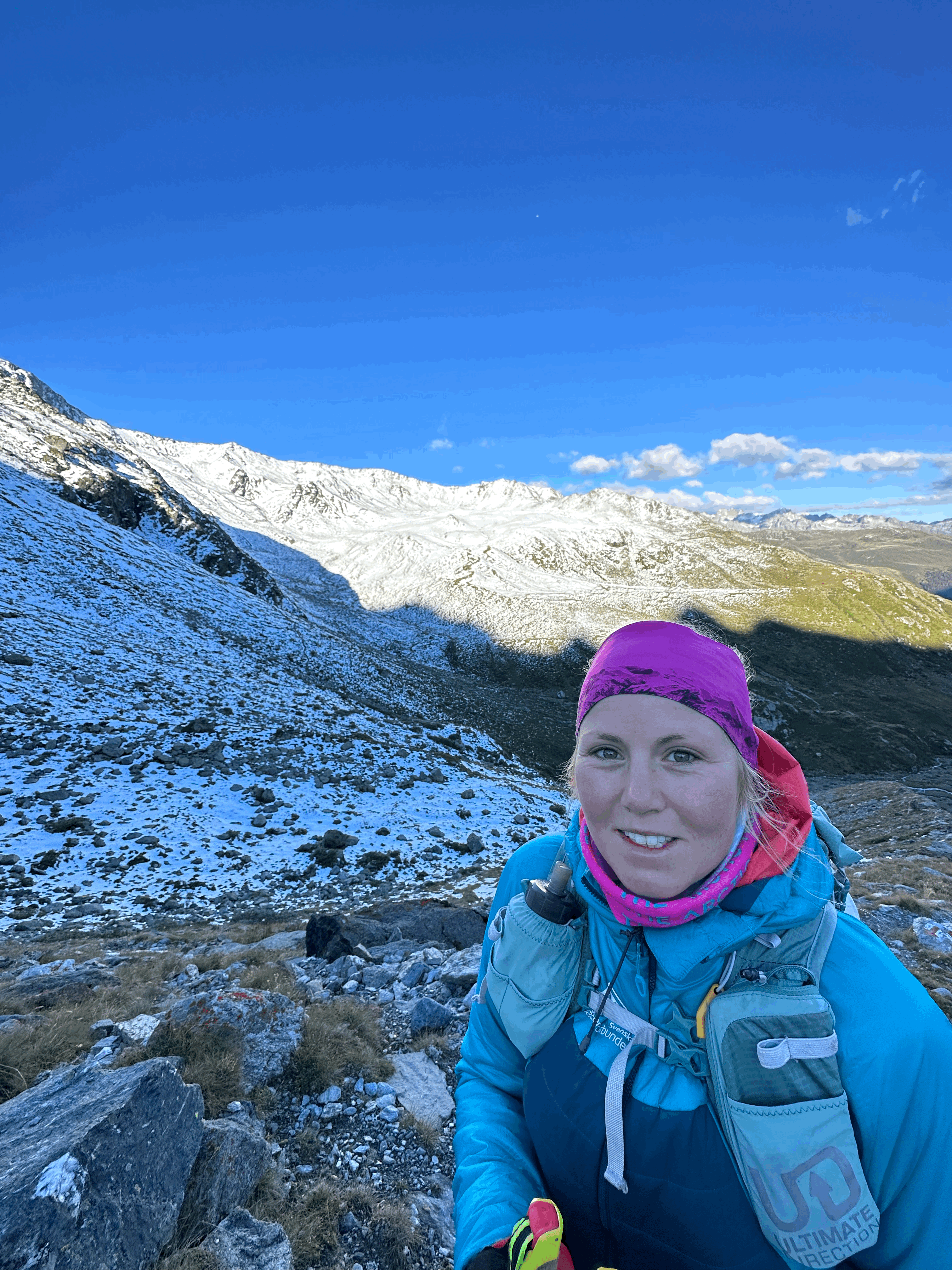 PART 6
261 k done , 49 k left
Sleep deprivation and heat struggle
Orsières to Chamonix felt so close, yet so far away. We had irritating bruises on our backs, on our legs and fingers, not to talk about our feet and toes. But somehow when there are so many painful place on the body, only the worst feels, which kind of makes it manageable. Sure enough there were plenty of times we wanted to stop and quit and just lay down, going home. Who cares anyway. But then we know deep down, that we after all do care. The curiosity kept us going. What was behind next corner, how did the other valley look? Just to run that finish line side by side, accomplish something together, is worth the struggle. Otherwise, if to mark the end of our adventure before the goal, all we had endured til here would be in vain. We were out on a test, and were determined to withstand.
We are by nature impulsive and restless, having a hard time staying on one place. (Therefor we didn't stay sleeping so long on any place, because we wanted to move forward). But on this race, you really have to be patient too. The distance doesn't sound too far, but when the terrain is what it is on some parts, and the navigation gets hard and the weather is what it is, it will double (quadruple?) the time out there. We had aimed to finish after around four and half or five days. Now we were already halfway into the fifth, and many hours to go. Though early into the race, we understood it would take more time than expected.
It was a hot night. And on our way up on a steep trail to La Breya above Champex Lac, we crossed a trail where the UTMB-runners came. They looked drained and sad and alone, coming one by one. We had each other, and I wouldn't have liked to be all by myself there. The climb up was made quit. Both of us felt we should have stayed for a longer rest down in Orsières, but kept that unsaid. We were in a mad mood on top, discussing why we did this shit. Not being able to run, just slowly moving forward, for what?
But it helped that this place was familiar since we had been skiing here too. And it was a beautiful view where we could see all the head torches of the UTMB-runners like a pearl necklace finding its way down the mountain.
Suddenly two eyes and a growling sounds appeared. A dog sat beside the wide trail and stared at us. In front laid something big. At first sight it looked it was a wolfs capture. But then we saw it was someone sleeping outside in a sleeping bag with his husky.
As we continue down the trail, my head couldn't stop thinking of the sleeping man. It was so tempting to shut my eyes, crawl up by a tree and sleep. After some time I thought, but why don't we just do this for 10 minutes? Then maybe the cravings of sleep is away and we can focus on setting on. Lina said yes straight away. And we jumped into our survival bivy blankets which at this time were perfectly warm. And then we slept deep under the stars for 20 long minutes. It was actually a very cozy moment.
The following part we had skied with Werner and Debbie too, when they lived in Champex Lac. We were going up to the col we had stand on on skis a few years before. It felt easier with a snow packed landscape and skis on our feet, than huge rocks wherever we looked. The moon was strong so our headlamps didn't have to use all its power. The way uphill was the typical one when you think you are soon there, and then you just see next sea of rocks above you, and when you are really sure it must be the col, you aren't even a little bit more than half way up. But once up to Fenêtre d'Arpette, it felt worse to start the journey downhill. On the other side of the mountain we could see a bracelet of lights moving down as well. It was the UTMB-runners coming closely after each other. Then it felt better for us as well. There were other people out throughout the night, making progress.
How much we wanted to come down. We didn't want to fall. And due to our lack of sleep, we couldn't trust our legs and feet anymore. The balance weren't there as usual anymore, and we felt dizzy at times and eyes crossed each other from time to time.
We had to make two more naps on the trail to be able to continue! It's fascinating how easy it is to fall asleep when you are tired, and it can be the best sleep you ever had! It's a special experience.
When we had waken up we met Petter Restorp and Roman Ewarts on their way up to cheer on runners in Champex Lac. It was great to talk to other people this early to get more energy!
We realized we were on the same trail as OCC goes, the 56 km race, which we ran last year. Again, our main course was taken down to a B-course so it was exactly like the OCC. It was very disappointing, we of course wanted to see something new. The day begun, and we were lucky to have shadow all the way to Col de Balme. Now Chamonix felt sooo close! Here we knew we would make it! So that was fantastic, but also, when your goal seems so close, things starts to hurt even more, and the goal gets further and further away…
We have been running the trails in Le Tour many times, and they are really easy and fast ones! If we felt fast? Not so very much, no. When we reached bottom of Le Tour we hear a frisky shouting and running towards us comes our friend Jenni! She is bubbling with joy and energy which is contagious! We have a great chat before she leaves us and says she will hurry to the bus to meet us soon in Chamonix!
This short way back to Chamonix was the longest of the whole course. We once again though were lucky to have friends meeting up now, Björn and Pontus were in Argentière and we were so surprised to be cheered on again!
The last bit was a fight against the heat, and also the trail which we thought would lead us straight to Chamonix, but instead lingered its way further up in the forest to give us some extra vert.
Another battle on a non-existent trail and we came out on a road after been passed by a team who flew down the hill like they had just been out on an easy jog this morning.
Two jumping and waving girls came towards us, it was Jenni and Johanna! "They are in Hell" the team who passed us had told them. Apparently we had been a bit loud in our discussions on route choices down the forest. But now at least Lina was high on life again, friends gives so much energy you didn't think you had! Sanna left the talking to the rest and just wanted to finish this. Dehydrated and no sleep she was in another world. "Only 4 km left from here" Johanna said in a frisky voice. It's weird that when you have been running almost 300 km, you think that 4 km is very long.
Just when we were about to increase our low speed entering Chamonix, about 1 km from the goal, we were stopped by some volunteers. What now? The top three men in the UTMB (The main race of the whole week) would come in some minutes, so we had to wait to not "disturb" the finish. It felt abrupt and strange, but in the same time we also understand this and Sanna could have another nap, which probably were very needed not for her to collapse. She was on the tip of fainting.
And it was actually the best timing to come to the finish line in Chamonix. It's packed with people and everyone is cheering. When we had green light to start running again we had new bodies.
We had got wings on our backs, running along the river that gave us its power, we were floating with it! Side by side, after all the ups and down, finally here, with the best finish we could ever dream of (and this was honestly what we had been dreaming of!) The legs felt no pain, we both ran with are hearts full. Friends and people who didn't knew us still cheered us like queens. It was fantastic. It was amazing! It was one of the most fun things we have ever done in our lives!
Let's not talk too much about the after math. There have been a couple of days in Chamonix of just sleeping, resting, eating and being. That's about it.