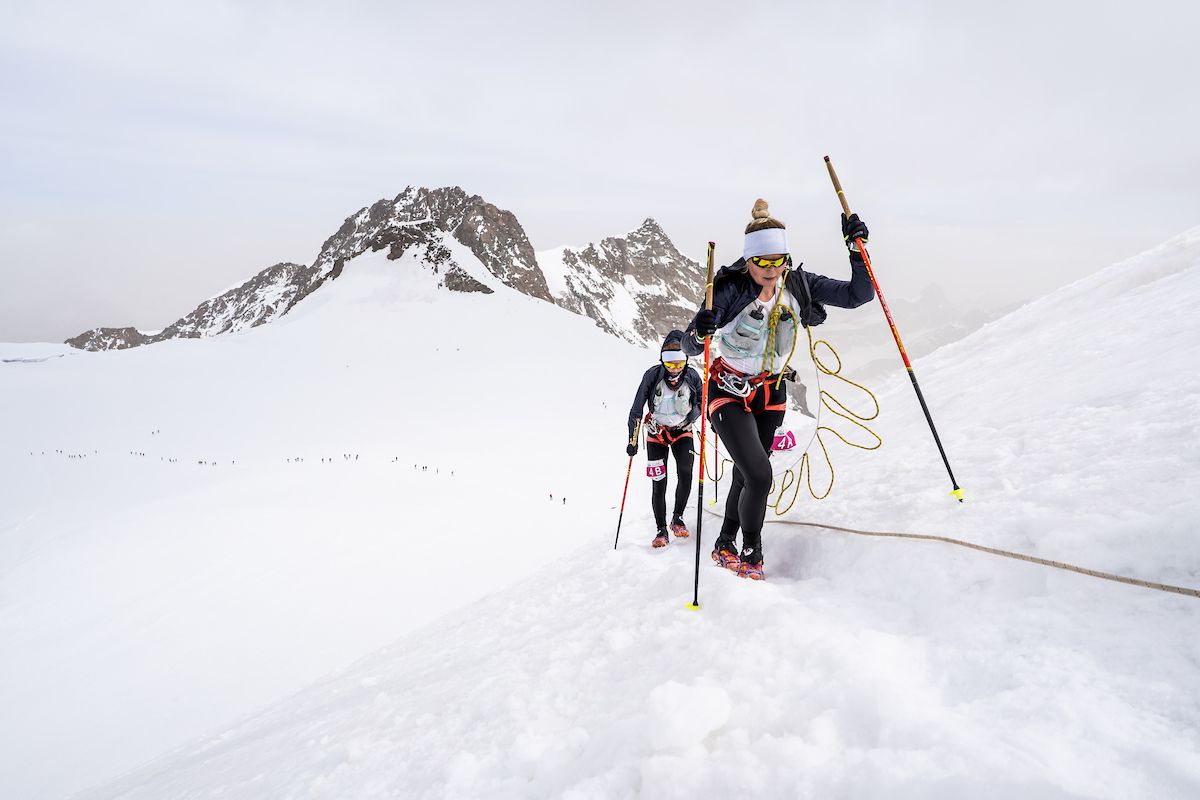 Monterosa Skymarathon Race Report
All pictures from Ian Coreless. A full gallery on his website here.
Read about the race on their website and instagram here. and IG.
A high altitude and snowy race with highest point at Margherita Hut at 4556 meters over sea level. Runners in teams of two take their way up through single tracks, pass lift stations and above, through steep snow fields and couloirs to the final point where they turn around and take the same way down. It might not sound very much. But add 35 k and 3500 +m! The teams wear harnesses and via ferrata kit and will be attached together with a rope once upon the glacier, to minimize the risk of an accident.
The race has coming to be a special race with many elite runners on the start field and other adventures people seeking for a challenge together with a friend. We as twin sisters and skyrunners, of course have wanted to run it for some time.
The atmosphere around the race and in the village was great. Everyone seemed to corporate with one another in the village.
The day before the race we had taken the lifts up to have a glimpse of what was waiting for us. It was nice to know a little bit how the trails would look like, and also how the snow would be higher up when would use the ropes.
To fill up more than food we stayed hydrated with Maurten energy drink and packed our UD-ultra vests with mandatory equipment some sour candy, gels, and a strawberry bar. Lina carried the rope, and I the micro crampons and the rest.
We had not really gone through our borrowed ropes and via ferrata kit. And once we did, we felt they were not at all what the other runners had. Go light, or go home… In the last minute, (late in the evening before the race in fact) we got to borrow a new lighter rope and also an elastic string tied up so it would make it easier to run with. So thankful for that! Our via ferrata were heavier than others but very easy to click on and off.
Race start at 5.30 meant alarm set at 3.15 am. To not stress too much, we ate a little breakfast on the room, and then just tried to wake up.
The first 1/3 of the race was on a single trail through deciduous forest and we also passed some of the iconic Alagna stone houses. It was pretty steep with a long que of runners. We pushed here to not get stuck behind and were in the lead of the women field from the beginning. We tried to pass some men without filling up with lactic acid. I think our pace was good. Tip-toing, walking and running where we could. Our Leki poles were excellent helpers!
Lina and I switched now and then who was in front. We try to have the one that has most energy first, and then it's easier for the other one to follow and keep up. I must say our teamwork is great! On the point where we were told to put on our micro crampons, I filled bottles while Lina took them out, and made sure we were ready to continue in a second. The climb to the second aid station was in snow, both runnable and steep steps to heaven with buts in our view. People were cheering on and everyone wanted to help out on the aid-station where we put the ropes together. I filled new bottles again, and when I was to tie the rope I realized it was already done by someone else! Thanks for that.
At first the rope was pretty hard to have in front of my feet and Lina ran too fast for me to be able to not get caught in the loops. (Since it was tied on an elastic string). But I managed to put it around my shoulder, and then we could run on.
On the via ferrata, I didn't find it that steep since I was so concentrated to walk in the snow steps that was made by the first runners, and to click in and off the via ferrata carabiner on the ropes up. It was fun. The rest of the way to the top was much longer than we thought. We had the same pace as three other teams. And I think all of us could feel the altitude. Lina first went dizzy, so I got to be in front up to the top. But I also felt close to faint, it's a scary actually. We really tried to eat and drink. But it was very hard. Sour candy was the easiest to get into our mouths. But I think it was good we forced down some gels and a fruit bar as well. And of course, water and energy drink.
It wasn't cold, but partly windy. We walked step by step, pretty slow, but also tried to jog where it was easy to do so. Finally on top to turn around, and we had a glimpse of the view. S.P.E.C.T.A.C.U.L.A.R !!!
And then full focus down. We could now see our concurrence for the first time, and put full gas in. The snow was even softer now, and more holes to jump over. (And crevasses!) Hands up to André Jonsson who saved a team from falling down. He jumped like a superhero to catch the second guy in the team from disappearing into a crevasse. And Remi Francais hold their rope tight until more people could come. Wow.
On the couloir where the Via Ferrata section were, we couldn't stand up and fell to sit on our butts, but couldn't stop in time to change the carabiner to the next rope. Our own rope got stuck above us, and another team, also sliding down with their micro crampons too close to my head, had to dig our rope up deep down under the mini avalanches we had created.
It was a lot of butt sliding down in the step snowfields. One of my crampons had been twisted to the side of the foot. And I was afraid of slipping with it, but still didn't want to stop to fix it, afraid of being caught by a woman team. When we finally could take the crampons off, we thought we heard some women chatting somewhere behind us, (we didn't look back) just sped up and danced down the trails, it felt like.
So much fun, stressed, adrenaline rushed and filled with endorphins at the same time. The trails down to finish felt so much longer now than on our journey up the mountain! I wanted it to end but also wanted the race to continue longer. Such a weird feeling. I breathed so heavily; glad no flies got swallowed.
What I had in my head was 'it is not over until it's over' on repeat. We wanted to win so badly.
On the asphalt, 100metres from the arcs, we let ourselves relax and really enjoy the cheering and hurray. It was done now! We won Monterosa Skymarathon