The best falafel we have ever eaten was in Cairo when we were there as kids visiting our relatives ( YES we are quarter Arabs!) Our name El Kott is from Grandpa.
It's actually no idea to even try to make the falafel how it tastes like in Egypt... BUT we can make our very own version with Pumpkin in, now that it's season for it. And it's delicios! We also had carrots at home, so grated them to serve with, and used the carrot tops in the falafels. Another tip is to make a pesto with them! No food waste!
Pumpkin Falafel
about 20 falafels
Ingredients:
7 dl cooked (or only soaked) chickpeas
3 dl baked pumpkin
2 dl fresh herbs (parsley,coriander,rosemary,thyme,sage)
some carrot tops (optional)
4 cm leek
2 spoons of kimchi
2 tbsp chickpea flour
1/2 dl sunflower seeds
2 tbsp sesame seeds
cumin, turmeric,chili, curry
salt and pepper
Chop and sautée the leek and sunflower seeds in a pan. Put Chickpeas, pumpkin, and kimchi in a food processor. Just slighly blend it. Then add the rest and blend a bit more. You DON'T want it to be a hummus, it should almost be a crumbly consistency.
Then place everything in a bowl and form balls. If it's very wet, add a little more chockpea flour. Now you can choose to fry your falafels in hot oil, to make them crispy, or for a healthier and faster version (like we did), just put them on a tray with a baking sheet and bake them in the oven on 200 C degrees for 10-15 minutes.
Serve with Liba bread, veggies and tahini sauce!
Tahini sauce
We love to make different kinds of tahini sauces! When you mix tahini with water, it thickens and becomes smooth and almost like a yoghurt. It's great to also add peanut butter, tamari soy, miso, vinegar, and citrus fruits. In this one we had mint which was great to the falafels. But try what suits you best!
4 spoons tahini
1/2 squeezed lemon/Orange/lime and zest
some liquid from kimchi
grated ginger or garlic
2 spoons of chopped mint leaves
1 tsp of white vinegar
some water
salt and pepper
Stir everything frequetly in a bowl to the consistency and taste you like.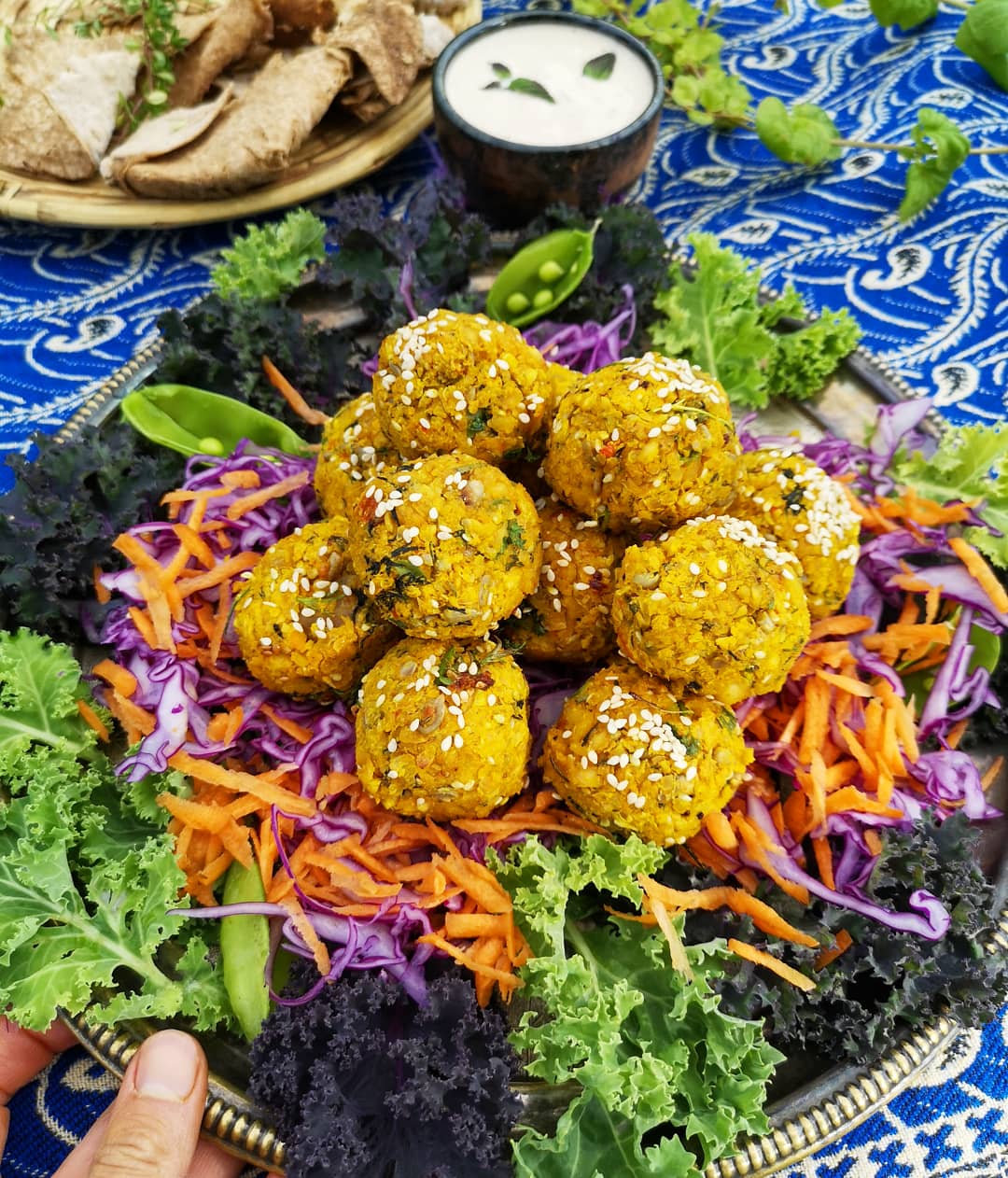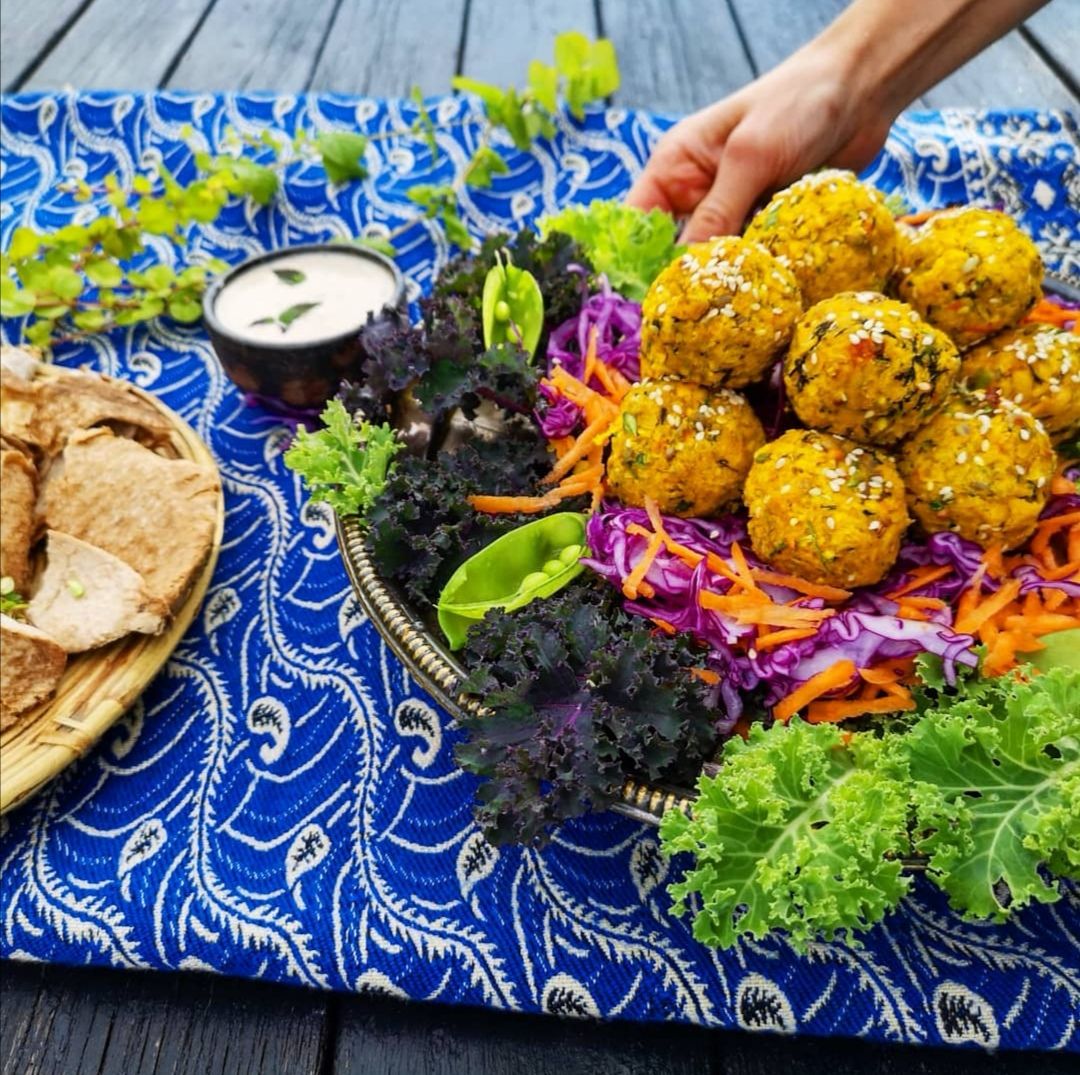 Falafel äts med fördel i Egypten för att få smaklökarna att smälta totalt. Godare finns knappast. Där är falafel extremt gott. Vår släkt bor där, (Japp, vi är kvartsaraber, vår farfar var därifrån) så vi har testat på flera ställen där. Det har varit svårt att överträffa dem. Men dessa pumpafalafel är dock både vackra och väldigt smakrika!
Nu är det säsong för pumpa, så det passade perfekt tyckte vi. Dessutom serverade vi riven morot till men använde blasten från dem i falaflarna, då de var ekologiska och närodlade där vi bor.
PUMPAFALAFEL
Ungefär 20 falafel
• 7 dl kokade kikärtor (eller endast blötlagda
• 3 dl ugnsbakad pumpa i tärningar
• 2 dl färska kryddor, (persilja, koriander, rosmarin, timjan och salvia)
• Ett knippe morotsblast
• 4 cm purjolök
• 2 skedar kimchi
• 2 tsk kikärtsmjöl
• ½ dl solrosfrön
• 2 tsk sesamfrön
• Spiskummin, gurkmeja, chili och curry
• Salt och peppar
Hacka och fräs purjolök tillsammans med solrosfrön i en stekpanna. Lägg i kikärtor, pumpatärningarna och kimchi i en matberedare. Mixa det bara litegrann. Tillsätt sen resten av ingredienserna och mixa lite till. Du vill inte att det ska bli en hummus, utan istället lite grynig konsistens.
Häll över allt i en skål och forma till bollar. Om det är en lite för lös smet, addera lite kikärtsmjöl. Nu kan du välja att antingen fritera dina falafel i het olja för att få dem extra krispiga, eller göra en lite hälsosammare och snabbare variant, (som vi gjorde), bara lägg dem på en bakplåtsbeklädd ugnsplåt och grädda på 200 grader i ca 10-15 minuter. Servera med Libabröd, grönsaker och Tahinisås!
TAHINISÅS
Vi älskar att göra olika varianter av tahinisåser (Om vi inte bara äter den som den är, vilket också är farligt gott). Men om du blandar några skedar tahini med lite vatten, och blandar och blandar, blir det ännu tjockare, och så kan man tillsätta mer vatten och blanda, och få ännu mer tahini, då räcker burken längre också! Men man kan leka lite med konsistensen på det här viset, krämig liknande yoghurt brukar det bli. Det är också gott att blanda i jordnötssmör, tamarisoja, miso, vinäger och citrusfrukt. Till våra pumpafalafel gjorde vi en citrus- och myntatahini, det blev succé!
• 4 skedar tahini
• ½ pressad lime och citron plus rivet skal
• Lite vätska från kimchi
• Riven ingefära eller vitlök
• 2 skedar hackade myntablad
• 1 tsk vitvinsvinäger
• Lite vatten
• Salt, peppar och lite chili
Blanda om allt väl i en skål till önskad konsistens!