These crispy and flavourful bites are sooo good, and perfect if you crave something "fast food-ish", but still want something rather healthy. Nutritional yeast is a form of dried yeast flakes with a cheesy flavour, perfect as a substitute for vegan cheese taste. You can find it on health stores and online.
Cheesy Chickpea Balls
ingredients:
1 tsp coconut oil
1 cup cooked chickpeas
3 spoons tahini
1-2 tsp curry
1 tsp turmeric
1/4 cup nutritional yeast
1/2 squeesed lemon + zest
a pinch of himalayan salt, pepper and fresh parsley or coriander
Do like this:
Put everything in a pan, stir around and fry a couple of minutes. Now you can choose to eat this as it os with a salad, quiona or oven baked root veggies for example, OR you make crispy Chickpea balls with root veggies and a green mixure in the recipe that follows:
Balls:
Fried chickpeas from previous recipe
2 spoons tahini
2 spoons nutritional yeast
1/ 4 cup chickpea flour
1/4-1/3 cup water
Green mixture:
a handful of kale
1 celery stalk
2 inches of cucumber
½ garlic clove
a handful of fresh parsley
some squeezed lemon juice, salt and pepper
Balls: Combine everything in a bowl. form to balls with two spoons and put on a tray with baking sheet. Bake in the oven on 200 C degrees for about 10-15 minutes. Serve with oven roasted root veggies (for example beets, carrots and potatoes baked for about 20 minutes on 225 C degrees)
Green mixure: Blend evrything in a food processor to a green salsa.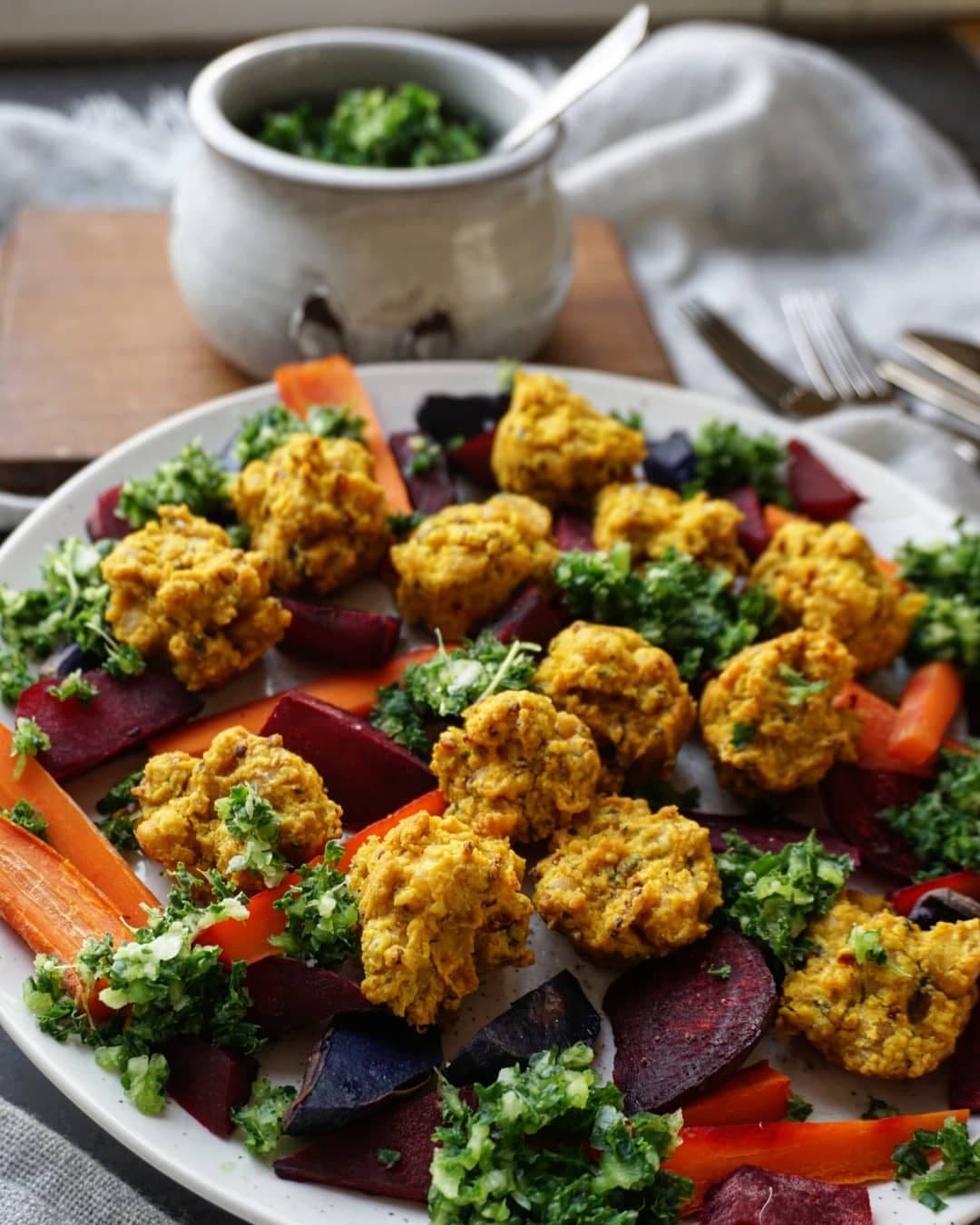 Dessa krispiga och smakrika bitar är verkligen sååå goda! Perfekt om man är sugen på något snabb-mats-aktig, men fortfarande vill ha det lite hälsosammare. Näringsjäst är en sorts torkade jästflingor som har en väldigt ostig smak. Perfekt som veganskt ost-substitut när man vill ha ostsmak!
Ostiga Kikärtsbollar
Ingredienser:
1 tsk kokosolja
300 g kokta kikärtor
3 skedar tahini
1 tsk curry
1 tsk gurkmeja
½ dl bjäst (näringsjäst)
½ pressad citron + zest
en nypa flingsalt, peppar och färsk persilja eller koriander
Gör såhär:
Värm kokosolja i en stekpanna och häll i alla ingredienser. Rör runt och stek i några minuter. Nu kan man välja att äta detta som det är, med en sallad, quinoa eller ugnsrostade grönsaker, eller så gör man frasiga kikärtsbollar med ugnsrostade rotsaker och grön mix i följande recept:
ingredienser:
Bollar:
Stekta tahini-kikärtor enligt recept ovan
2 skedar tahini
2 skedar bjäst
½ dl kikärtsmjöl
½- 1 dl vatten
Grön mix:
ett stort grönkålsblad
1 selleristjälk
4 cm gurka
½ vitlöksklyfta
en näve färsk persilja
en skvätt citron, salt och peppar
Bollar: Blanda allt i en bunke och rör om ordentligt. Forma bollar med två skedar och lägg på en plåt med bakplåtspapper. Grädda i ugnen på 200 grader i ca 10-15 minuter. Servera med ugnsrostade rotsaker (exempelvis rödbetor, morötter och potatis bakade i ugnen i ca 20 minuter på 225 grader)
**Grön mix: **
Mixa i en matberedare till en grov grön salsa.